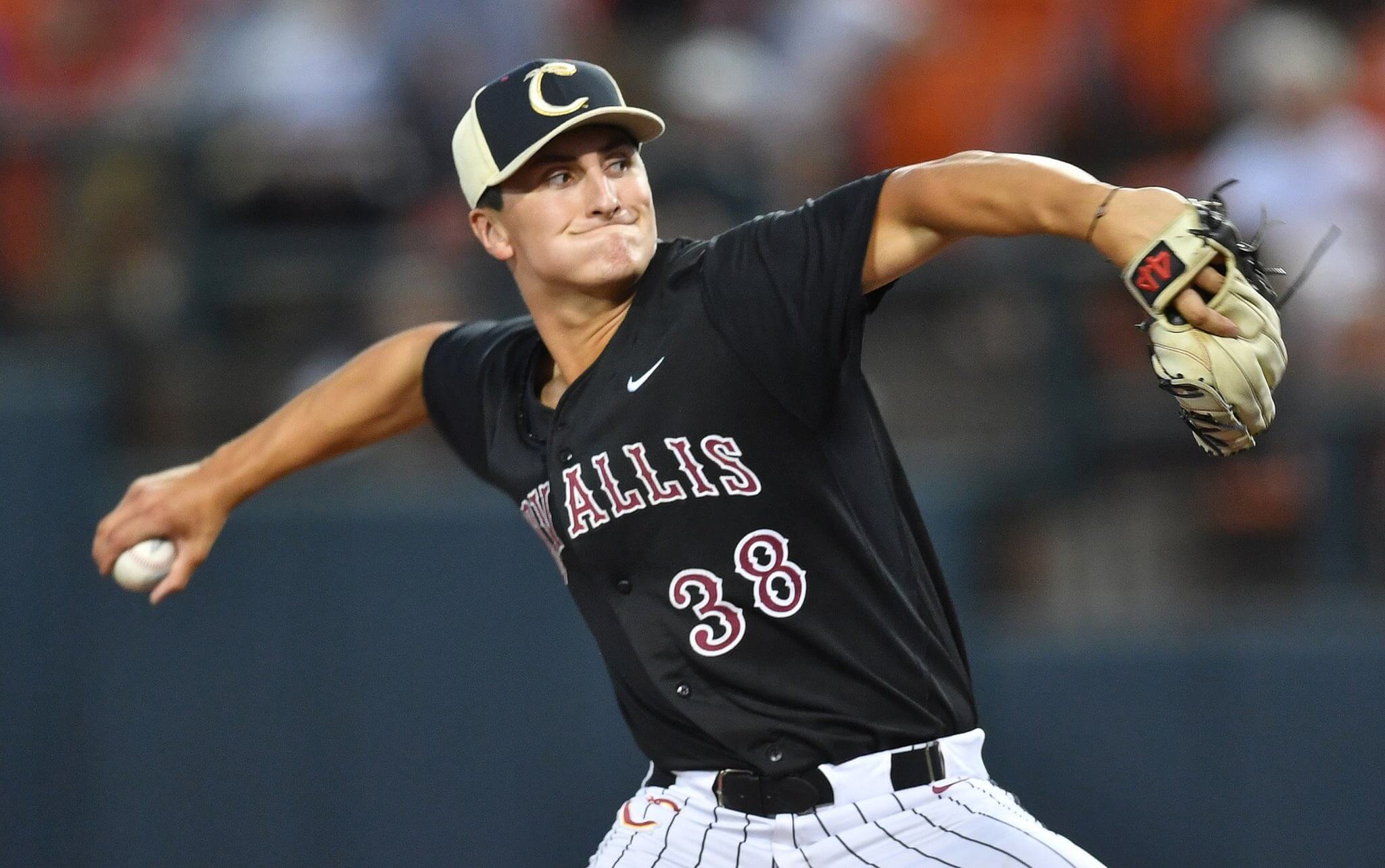 July 18, 2022
With the selection of 11 players on Monday, 14 WCL alumni have now been taken in the first 10 rounds of this year's MLB Draft. Three former WCL players were picked on the Draft's first day, with both Brooks Lee (Corvallis Knights, No. 8) and Gabriel Hughes (Bellingham Bells, No. 10) among the first 10 picks.
This marks the sixth straight year featuring at least one WCL alumnus selected in the Draft's first round.
The first three alumni taken on the second day were all standouts from West Coast Conference schools. Gonzaga hurlers Trystan Vrieling (Yakima Valley Pippins) and William Kempner (Corvallis Knights), along with San Diego shortstop Chase Meidroth (Victoria HarbourCats), all heard their names called shortly after the draft resumed Monday.
View the latest list of former WCL players below.
Round / Player / School / WCL Club(s) / MLB Org
– 1st round, Brooks Lee, Cal Poly, Corvallis, Minnesota Twins
– 1st round, Gabriel Hughes, Gonzaga, Bellingham, Colorado Rockies
– CB round B, Justin Boyd, Oregon State, Ridgefield, Cincinnati Reds
– 3rd round, Trystan Vrieling, Gonzaga, Yakima Valley, New York Yankees
– 3rd round, William Kempner, Gonzaga, Corvallis, San Francisco Giants
– 4th round, Chase Meidroth, San Diego, Victoria, Boston Red Sox
– 7th round, Nick Hull, Grand Canyon, Bellingham, Chicago Cubs
– 7th round, Nick Vogt, UC Santa Barbara, Corvallis, San Diego Padres
– 7th round, Caleb Ricketts, San Diego, Victoria, Philadelphia Phillies
– 7th round, Christopher Campos, St Mary's, Bellingham, Los Angeles Dodgers
– 8th round, Wade Meckler, Oregon State, Ridgefield, San Francisco Giants
– 9th round, Gavin Logan, Oregon State, Bend, Arizona Diamondbacks
– 9th round, Brett Gillis, Portland, Wenatchee/Corvallis, Houston Astros
– 9th round, Brody Jessee, Gonzaga, Bellingham, Cincinnati Reds
The MLB Draft will conclude Tuesday, featuring rounds 11 through 20 and beginning at 11 a.m. Pacific Time. Continue to check westcoastleague.com for an updated list of former WCL players selected in this year's draft.
About the West Coast League: The West Coast League is the West's premier summer collegiate baseball league. Encompassing Oregon, Washington, British Columbia, and now Alberta, the WCL showcases pro prospects from major collegiate conferences around the nation. Every summer, the league features unparalleled fan and player experiences, with North America's best baseball weather and a mix of classic and state-of-the-art ballparks, all backdropped by dramatic scenery. The 2019 MLB amateur draft began with former Corvallis Knight Adley Rutschman selected with the overall No. 1 pick by the Baltimore Orioles, and the 2021 draft included 42 WCL alumni, including 4 of the first 63 picks.