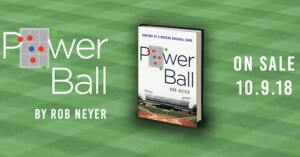 October 9, 2018
Current West Coast League commissioner and former ESPN columnist and analytics pioneer Rob Neyer dramatically recreates an action-packed 2017 game between the Oakland A's and eventual World Series Champion Houston Astros to reveal the myriad ways in which Major League Baseball has changed over the last few decades.
We invite all our West Coast League fans to order up and enjoy commissioner Neyer's latest and greatest baseball gem. You can order at Amazon by clicking here or at indiebound.org.
ABOUT THE WEST COAST LEAGUE
The West Coast League (WCL) is the premier summer collegiate baseball league west of the Mississippi. The 14-year-old, 12-team, professionally operated wood-bat league located in the beautiful Pacific Northwest showcases pro prospects from major conferences across the nation June through August. Out west, the league features an unparalleled history of memorable fan and player experiences and the best summer weather in North America. 72 players with WCL experience were selected in the MLB 2018 June draft. 293 WCL alums appeared or were active in affiliated professional baseball in 2018 including 38 in the major leagues, such as 2015 home-run leader Chris Davis (Baltimore); slugger Rhys Hoskins (Philadelphia); rising star pitchers James Paxton (Seattle) and Matt Boyd (Detroit); and all-star outfielder Mitch Haniger (Seattle) and closer Bud Norris (St. Louis).