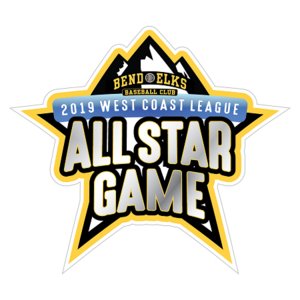 July 26, 2018
West Coast League commissioner Rob Neyer announced this morning that the league's 2019 All-Star Game will be played at Vince Genna Stadium, home of the Bend Elks. The exact date for the annual mid-summer classic will be released along with the full 2019 WCL schedule in the fall.
The 2019 WCL All-Star Game will be the 12th in the league's history and the first hosted by Bend. Each summer the showcase event features over 40 of the WCL's top players in the league's annual exhibition.
"We are so excited to be hosting the 2019 West Coast League All-Star Game in Bend. This will be Bend's first time hosting the All-Star Game and it is a great way to celebrate our 20th year as a team. Bend is a wonderful place to spend your summer and we cannot wait to bring the best West Coast League players, staff, and fans here for a few days next summer," said Kelsie Hirko of the Bend Elks.
The 2018 WCL All-Star Game took place last week in Port Angeles. The North Division topped the South Division 10-6 at Civic Field on Tuesday night. Kyle Schimpf (Port Angeles) of the North and Cesar Lopez (Walla Walla) of the South were named co-MVPs. Port Angeles slugger Ron Brown from the University of Houston won the Saltwater Splashdown on Monday, July 16, the league's annual home run derby. The Port Angeles Lefties put their own unique spin on the event, hosting it at Hollywood Beach with participants blasting home runs into the water.
Ticket information for the 2019 WCL All-Star Game will be released at a later date. For more information, please visit www.bendelks.com or call (541) 312-9259.
ABOUT THE WEST COAST LEAGUE
The West Coast League (WCL) is the premier summer collegiate baseball league west of the Mississippi. The 14-year-old, 11-team, professionally operated wood-bat league located in the beautiful Pacific Northwest showcases pro prospects from major national conferences from June through the middle of August. The WCL features an unparalleled history of memorable fan and player experiences, and the best summer weather in North America. In 2018, 72 players with WCL experience were selected in Major League Baseball's June amateur draft. 271 WCL alums appeared or were active in affiliated professional baseball in 2017, including 31 in the major leagues, such as 2015 home-run leader Chris Davis (Baltimore); record-breaking rookie slugger Rhys Hoskins (Philadelphia); rising star pitchers James Paxton (Seattle) and Matt Boyd (Detroit); and 2018 AL All-Star outfielder Mitch Haniger (Seattle). Overall member attendance was 412,392 last summer, an increase of nearly nine percent year to year.