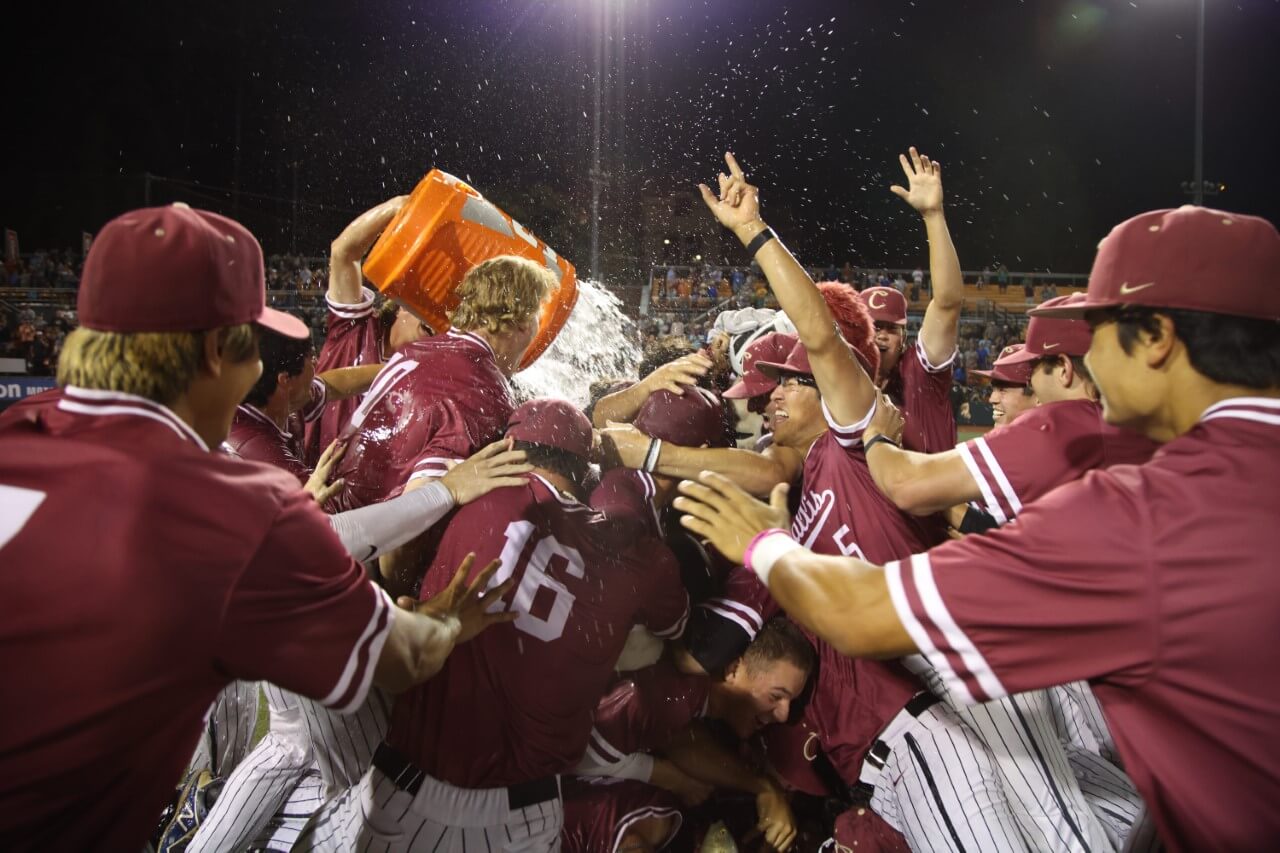 August 15, 2022
The Corvallis Knights' historic run – already among the most impressive in modern amateur sports – became even more impressive Monday night when the Knights, with more than 2,000 fans on hand, captured their sixth straight West Coast League championship with a 5-0 victory over the visiting Bellingham Bells.
The Knights' championship is also their ninth overall, with 2022 joining 2008, 2011, 2013, 2016, 2017, 2018, 2019 and 2021 (the league's 2020 season was canceled due to the COVID-19 pandemic).
The Bells grabbed the No. 1 seed in the WCL's North Division with their first-half title, then dispatched Victoria and Wenatchee to win the North title and advance to the championship game in Corvallis. This represented a rematch of 2016, when the Knights began their current championship streak, and 2014, when the Bells won their first (and so far only) WCL championship.
In Monday night's championship game, the Knights essentially manufactured single runs in five different innings, while Corvallis's flawless defense and timely strikeouts kept Bellingham off the board throughout the game. Knights right-handers Matt Scott (Stanford) and Kaden Segel (Linn-Benton Community College) combined for seven shutout innings, and Ethan Ross and Cam Day finished with scoreless eighth and ninth innings, with Day's game-ending strikeout the clincher.
About the West Coast League: The West Coast League is the West's premier summer collegiate baseball league. Encompassing Oregon, Washington, British Columbia, and now Alberta, the WCL showcases pro prospects from major collegiate conferences around the nation. Every summer, the league features unparalleled fan and player experiences, with North America's best baseball weather and a mix of classic and state-of-the-art ballparks, all backdropped by dramatic scenery. The 2019 MLB amateur draft began with former Corvallis Knight Adley Rutschman selected with the overall No. 1 pick by the Baltimore Orioles, and the recently completed 2022 draft featured two West Coast League alumni, Brooks Lee and Gabriel Hughes, among the first 10 picks.