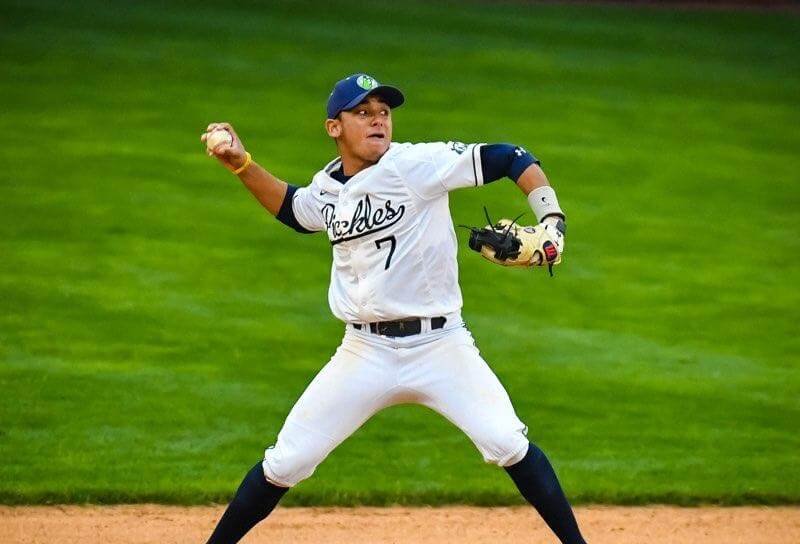 June 16, 2020
*Updated as of August 16, 2020
More West Coast League alums are gearing up to start their professional careers, signing as free agents with Major League organizations since the conclusion of MLB's 2020 amateur draft. In addition to the five WCLers selected in this year's five-round draft, 16 more players have now agreed to terms as non-drafted free agents.
The Portland Pickles and Victoria HarbourCats lead the way with three signings so far, including Gio Diaz (pictured). The Saint Mary's standout, who earned All-WCL honors with Portland in 2018 and batted .396 with the Gaels this spring, is joining the defending World Series champion Washington Nationals.
Please check this page as more signings are announced, but here's the updated list of WCL Non-Drafted Free Agent signees:
Player / School / WCL Club(s) / MLB Org
Bradlee Beesley, Cal Poly SLO, Yakima Valley, Chicago Cubs
Ben Leeper, Oklahoma State, Bellingham, Chicago Cubs
Alex McGarry, Oregon State, Kelowna, Cincinnati Reds
Leo Nierenberg, Washington, Portland, Cincinnati Reds
Cade Smith, Hawaii, Victoria, Cleveland Indians
A.J. Lewis, Eastern Kentucky, Victoria, Colorado Rockies
A.J. Block, Washington State, Victoria, Kansas City Royals
Elijah Greene, Cal Poly SLO, Yakima Valley, Los Angeles Angels
Connor Pellerin, Tulane, Portland, New York Yankees
Jake Suddleson, Harvard, Walla Walla, Oakland A's
Adam Kerner, San Diego, Walla Walla, St. Louis Cardinals
Mac Lardner, Gonzaga, Wenatchee, St. Louis Cardinals
Carter Loewen, Hawaii, Port Angeles/Victoria, San Diego Padres
Haydn King, UNLV, Walla Walla, San Francisco Giants
Matt Scheffler, Auburn, Kelowna, Seattle Mariners
Gio Diaz, Saint Mary's, Portland, Washington Nationals
About the West Coast League: The West Coast League is the West's premier summer collegiate baseball league. Covering Oregon, Washington, and British Columbia, the WCL showcases pro prospects from major conferences around the nation. Every summer, the league features unparalleled fan and player experiences, with the best summer weather in North America. Last year's MLB amateur draft began with former Corvallis Knight Adley Rutschman selected with the overall No. 1 pick by the Baltimore Orioles. Also in 2019, 317 WCL alums appeared or were active in affiliated professional baseball, including 45 in the major leagues, including 2019 MLB All-Star Game MVP Shane Bieber; outfielder Mitch Haniger, hurler James Paxton; slugger Rhys Hoskins; and rising star pitchers Marco Gonzales and Matt Boyd. In 2019, overall member attendance increased to nearly half a million.