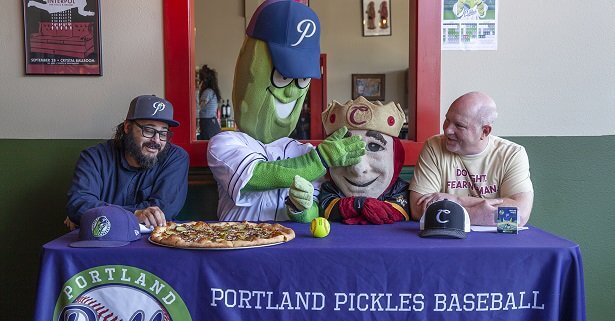 May 3, 2019
How will the game of baseball look in 2050? That's the question the Portland Pickles and Corvallis Knights will tackle on the Fourth of July with a special exhibition matchup at Walker Stadium. The Pickles announced seven major rules changes that will be implemented for the one-night only Future Game.
Check it out, as this futuristic game is going to be fast-paced, remarkable and definitely a new twist on America's Pastime.
Official Future Game Rules
1. Odd Innings: Flip Option
During odd innings, batters can flip their direction of travel when running the bases (during the 3rd, 5th, 7th innings). In odd innings, that is, a runner can go clockwise if they choose when the bases are empty, a man on second or men on first and third. It all means more action, more strategy and potential chaos on the bases.
2. Yellow Bonus Balls (bonus balls are good for only one pitch)
● With the bonus ball, a called, swinging or fouled strike is an immediate out.
● And a ball is an immediate walk.
● And any base hit counts double the value of its total base.
Either team can call a bonus ball, either when on offense or defense.
Each team gets (7) bonus balls, with a maximum of 2 to be used per inning.
3. 8 Defenders in the field
● The defenders can be placed wherever the team's manager chooses. Each team may have 2 DHs.
4. Pitch Clock
● Pitchers will have 15 seconds to throw pitch or make pick-off throw; otherwise, an automatic ball will be called.
5. 7 Inning Contest
● If the game is tied after 7 innings, the contest goes to home-run derby; rules determined on the spot. It's a slug off!
6. Bunting
● Any bunt hit, as judged by officials, counts as automatic double. Any bunt attempt that goes foul is an automatic out.
7. Halftime (Fourth-Inning Extended Stretch)
● 15 Minute Break.
● Fireworks!
Gates at Walker Stadium will open at 5:35 on July 4th. The Pickles and Knights will play their WCL league game at 1 p.m. on July 4th. Each game has a separate ticket for admission. For more information visit www.portlandpicklesbaseball.com.