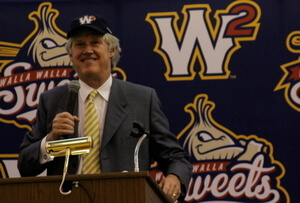 April 28, 2016
The West Coast League along with the Yakima Valley Pippins and Walla Walla Sweets, the two WCL teams owned and operated by Pacific Baseball Ventures, congratulate John Stanton in his new role as chairman and CEO of the Seattle Mariners of the American League.
Stanton, the chairman of PBV who was born in Seattle and raised in Bellevue, was named to chairman and CEO yesterday. Stanton will succeed current CEO Howard Lincoln, who is retiring. The change also includes the planned sale of a majority of Nintendo of America's interest in the Mariners to the team's minority owners. The transactions are expected to close in August.
"We are all excited for John, his family and partners on this historic day," said Zachary Fraser, president of PBV. "I know how much John cares for baseball in the Pacific Northwest, and I know that this is a dream come true for him. Since starting Pacific Baseball Ventures, we've been Mariners fans — and that bond is even stronger today."
The Pippins and Sweets are not affiliated with or owned by the Mariners, and business and team operations will remain separate.
To read more about this exciting move by the Mariners, click here to check out this piece by Larry Stone, columnist of the Seattle Times.
ABOUT THE WEST COAST LEAGUE
The West Coast League is the premier summer collegiate baseball league west of the Mississippi. The 12-year-old, 11-team, professionally operated wood-bat league located in the beautiful Pacific Northwest features pro prospects from major conferences across the nation and an unparalleled history out west of great fan and player experiences in addition to the best summer weather in North America. In 2015, 59 players with WCL experience were selected in the MLB June draft, and more than 200 WCL alums appeared in affiliated professional baseball including 25 in the major leagues, such as home-run leader Chris Davis (Baltimore), NL Rookie of the Year runner-up Matt Duffy (San Francisco) and rising star pitcher Josh Osich (San Francisco). Overall member attendance exceeded 400,000 in 2015. The 2016 54-game campaign opens Friday, June 3.