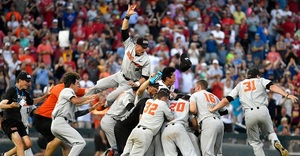 June 29, 2018
The Oregon State Beavers of the Pac-12 went 6-0 in elimination games at the College World Series to capture the program's third national title. Head coach Pat Casey's Beavs shutout Arkansas 5-0 yesterday in the CWS finale to secure a national championship.
West Coast League alum Adley Rutschman (Corvallis, 2016) was named the College World Series MVP. The switch-hitting catcher from Sherwood, Oregon went 17-30 over the series and 3-for-4 in the finale; and set a new record for hits in the series with 17.
Oregon State featured several WCL alums that contributed in Omaha such as Cadyn Grenier (Bend, 2015), Nick Madrigal (Corvallis, 2015), Tyler Malone (Corvallis, 2017), Michael Gretler (Victoria, 2015), Brandon Eisert (Cowlitz, 2016), Kyle Nobach (Corvallis, 2016), Zak Taylor (Corvallis, 2016-2017), Jack Anderson (Bend, 2016), Steven Kwan (Corvallis, 2016), Preston Jones (Cowlitz, 2017), Andy Armstrong (Cowlitz, 2016), Troy Claunch (Corvallis, 2017), Joe Casey (Bend, 2017) and Zach Clayton (Bend, 2017).
Pictured is former Cowlitz Black Bear Andy Armstrong leaping on the top of the Beavers dogpile.
Oregon State is holding a National Championship celebration today at OSU's Goss Stadium, the home of the Corvallis Knights.
ABOUT THE WEST COAST LEAGUE
The West Coast League (WCL) is the premier summer collegiate baseball league west of the Mississippi. The 14-year-old, 11-team, professionally operated wood-bat league located in the beautiful Pacific Northwest showcases pro prospects from major national conferences from June through the middle of August. The WCL features an unparalleled history of memorable fan and player experiences, and the best summer weather in North America. In 2018, 72 players with WCL experience were selected in Major League Baseball's June amateur draft. 271 WCL alums appeared or were active in affiliated professional baseball in 2017, including 31 in the major leagues, such as 2015 home-run leader Chris Davis (Baltimore); record-breaking rookie slugger Rhys Hoskins (Philadelphia); rising star pitchers James Paxton (Seattle) and Matt Boyd (Detroit); and outfielder Mitch Haniger (Seattle). Overall member attendance was 412,392 last summer, an increase of nearly nine percent year to year.