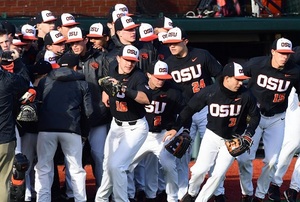 June 17, 2018
Yesterday's College World Series opening games were heartbreaking for #3 national seed Oregon State and first time CWS participant Washington.
Both lost close games, Oregon State 8-6 to North Carolina and Washington 1-0 to Mississippi State on a walk-off hit.
As a result, the two Pac-12 teams left standing in the NCAA DI baseball tournament will play a College World Series elimination game on Monday, June 18 at 11 am PDT at TD Ameritrade Park in Omaha, Nebraska.
Both programs place most of their players in the West Coast League to develop in the summer.
The Huskies starting pitcher last night, Joe DeMers, got his first taste of college baseball with the Walla Walla Sweets as did starting Dawgs second baseman AJ Graffanino with the Cowlitz Black Bears during the summer of 2015.
Both starting catchers for the Beavers and Huskies, Adley Rutschman and Nick Kahle, respectively, played on the 2016 WCL champion Corvallis Knights.
Oregon State's starting lineup featured eight WCL alums including left fielder Jack Anderson (Bend), center fielder Steven Kwan (Corvallis), third baseman Michael Gretler (Victoria), shortstop Cadyn Grenier (Bend), second baseman Nick Madrigal (Corvallis), first baseman Zak Taylor (Corvallis), catcher Adley Rutschman and designated hitter Kyle Nobach (Corvallis). Other Beavers that appeared later in the game with WCL experience were pinch-runner Preston Jones (Cowlitz), pinch-hitter Tyler Malone (Corvallis), catcher Troy Claunch (Corvallis) and third baseman Andy Armstrong (Cowlitz).
The Huskies, who made their first Omaha appearance last night, featured WCL alum Christian Jones (Bend) in right, future Bellingham Bells outfielder Mason Cerrillo in left; and alums Willie MacIver (Walla Walla) at third, Demers on the mound, Graffanino at second and Kahle at catcher.
ABOUT THE WEST COAST LEAGUE
The West Coast League (WCL) is the premier summer collegiate baseball league west of the Mississippi. The 14-year-old, 11-team, professionally operated wood-bat league located in the beautiful Pacific Northwest showcases pro prospects from major conferences across the nation June through August. Out west, the league features an unparalleled history of memorable fan and player experiences and the best summer weather in North America. 83 players with WCL experience were selected in the MLB 2017 June draft. 271 WCL alums appeared or were active in affiliated professional baseball in 2017 including 31 in the major leagues, such as 2015 home-run leader Chris Davis (Baltimore); record-breaking rookie slugger Rhys Hoskins (Philadelphia); rising star pitchers James Paxton (Seattle) and Matt Boyd (Detroit); and outfielder Mitch Haniger (Seattle). Overall member attendance was 412,392 this past summer, an increase of 8.6% in total attendance.