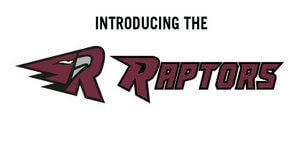 September 8, 2018
After extensive community feedback from Southwest Washington, including a "name the team contest", the newest West Coast League (WCL) membership in SW Washington will commence play in June 2019 as the Ridgefield Raptors. As previously announced, Chris Cota from College of the Canyons will lead the team as the inaugural manager. The unveiling of the Ridgefield Raptors was made at the "Experience Ridgefield" event at the Ridgefield Recreation Outdoor Complex Grand Opening on Saturday, September 8.
"We are excited to introduce our team name and logo to the community," said Raptors General Manager Gus Farah. "It has been a pleasure to work with the community to develop these important first steps, and I look forward to continuing these efforts as we work together to build a winning tradition that SW Washington can be proud of."
The Raptors brand features inspirational attitude and vibrant colors Maroon, Silver and Black with a progressive modern baseball look. The Raptor represents the heritage of the Ridgefield Wildlife Refuge and the birds of prey that can be seen there. "We look forward to integrating this brand throughout the entire fan and community experience at the Ridgefield Outdoor Recreation Complex and SW Washington," Farah said.
Tickets will be on sale soon for the 2019 season, including full-season and partial-season packages, as well as select team merchandise. To learn more, visit Ridgefield's website at www.ridgfieldraptors.com and sign-up to receive more information. The Raptors will start taking orders in October, 2018.
ABOUT THE WEST COAST LEAGUE
The West Coast League (WCL) is the premier summer collegiate baseball league west of the Mississippi. The 14-year-old, 12-team, professionally operated wood-bat league located in the beautiful Pacific Northwest showcases pro prospects from major conferences across the nation June through August. Out west, the league features an unparalleled history of memorable fan and player experiences and the best summer weather in North America. 72 players with WCL experience were selected in the MLB 2018 June draft. 270 WCL alums appeared or were active in affiliated professional baseball in 2017 including 31 in the major leagues, such as 2015 home-run leader Chris Davis (Baltimore); slugger Rhys Hoskins (Philadelphia); rising star pitchers James Paxton (Seattle) and Matt Boyd (Detroit); and all-star outfielder Mitch Haniger (Seattle) and closer Bud Norris (St. Louis).