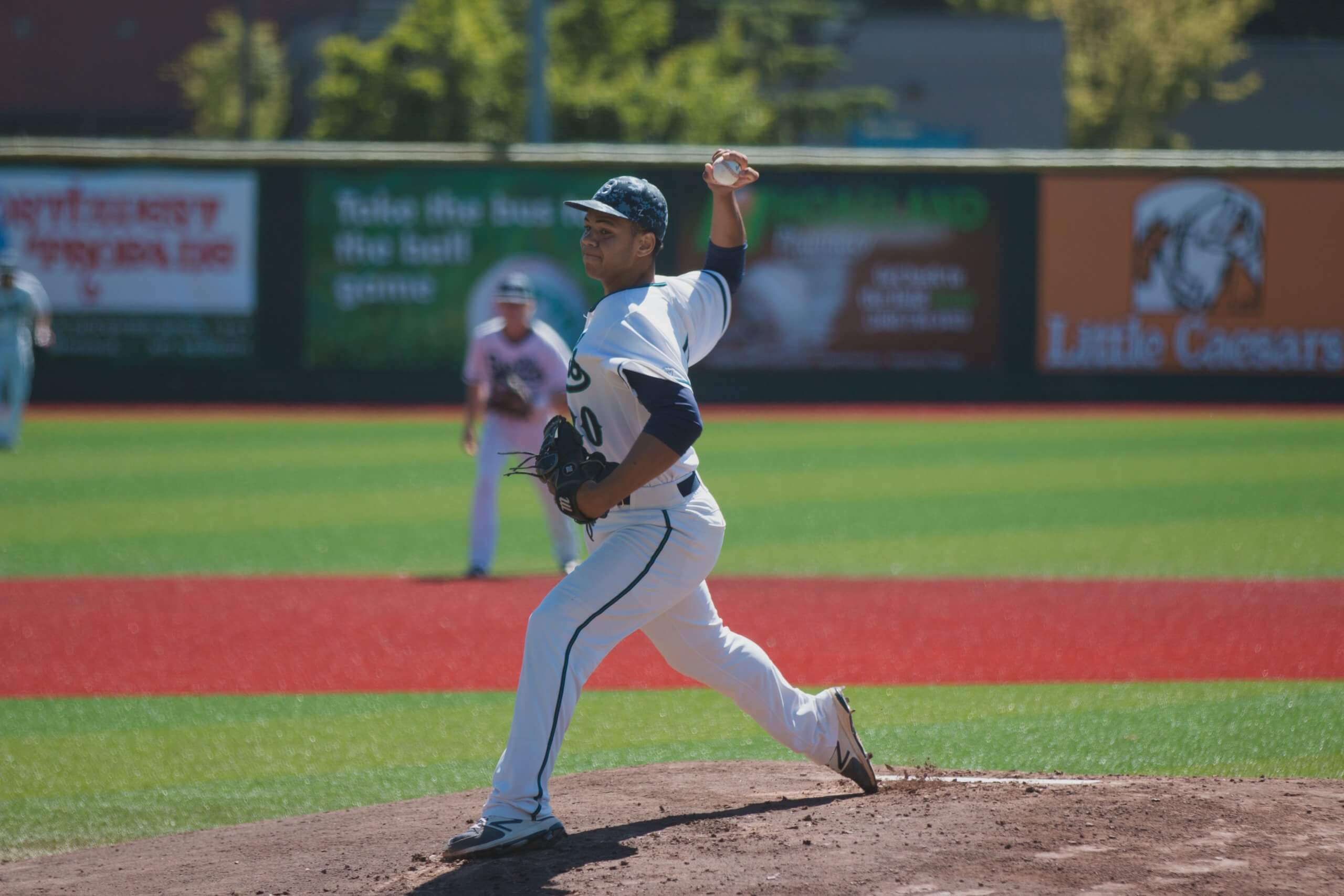 May 27, 2020
Seven West Coast League alums were named to Collegiate Baseball's All-America teams released yesterday including first-team All-Americans Zach Pettway of UCLA, A.J. Lewis of Eastern Kentucky and Kenyon Yovan of Oregon.
The teams were selected based on games played prior to the stoppage of the college baseball season due to Covid-19.
Pettway shined during his summer with the Bellingham Bells, finishing the 2017 campaign with a team-high 45 strikeouts in his 40.2 innings pitched. He went 4-1 in eight starts and was named a WCL All-Star. This spring for the Bruins, the junior was 3-0 with a 1.05 ERA, 29 strikeouts, and allowed only one walk in over 25 innings of work.
Lewis has continued to flourish since playing with the HarbourCats in 2018. He was the only player in NCAA Division I baseball to hit .450 or better, score 15 or more runs and drive in 20 or more during the 2020 season. The Chicago native was also a member of the Buster Posey National Collegiate Catcher of the Year watch list.
Yovan impressed as a member of the Cowlitz Black Bears in 2016. He flourished as a two-way player for the Black Bears, representing the team at the 2016 WCL All-Star Game held at David Story Field in Longview. As a redshirt junior this spring, he led Oregon with a .429 batting average. He also had a team-high 24 hits, four home runs, 22 runs scored and 15 walks.
Bellingham was the most represented WCL team on the list, with three of the six honorees having played for the Bells.
FIRST TEAM
Starting Pitcher Zach Pettway, UCLA (Bellingham Bells, 2017)
C A.J. Lewis, Eastern Kentucky (Victoria HarbourCats, 2018)
DH Kenyon Yovan, Oregon (Cowlitz Black Bears, 2016)
SECOND TEAM
Relief Pitcher Holden Powell, UCLA (Bellingham Bells, 2017)
SS Matt McLain, UCLA (Bellingham Bells, 2018)
THIRD TEAM
1B Kyle Manzardo, Washington State (Portland Pickles, 2019)
3B Aaron Zavala, Oregon (Ridgefield Raptors, 2019)
Click here to see the full Collegiate Baseball 2020 All-American selections.
About the West Coast League: The West Coast League (WCL) is the premier summer collegiate baseball league west of the Mississippi River. Situated in the beautiful Pacific Northwest, the WCL showcases pro prospects from major conferences around the nation. Every summer, the league features unparalleled fan and player experiences, with the best summer weather in North America. Ninety alums and current players of WCL teams were selected in the 2019 MLB Draft, including No. 1 overall pick Adley Rutschman. In 2019, 317 WCL alums appeared or were active in affiliated professional baseball, including 45 in the major leagues, such as 2019 MLB All-Star Game MVP Shane Bieber; outfielder Mitch Haniger, hurler James Paxton; slugger Rhys Hoskins; and rising star pitchers Marco Gonzales and Matt Boyd. In 2019, overall member attendance increased to 497,050.