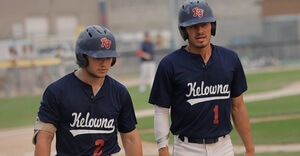 August 13, 2018
The Kelowna Falcons advanced to the West Coast League Championship Series last night with a thrilling 7-6 win over the Bellingham Bells at Joe Martin Field.
The Falcons raced to an early lead scoring three in the first and four in the second to go up 7-0, but the Bells stormed back, scoring the game's final six runs to make it a single run game after tallying five runs in the bottom of the second and another in the sixth-inning.
Kelowna was led by slugger Dan Pruitt of Seminole State who went 3-for-3 with a double and his second homer of the playoffs. Pruitt has blasted 5 home runs in his last five games.
The Falcons bullpen came up huge for Kelowna as southpaw Kellan Richards of Missouri Western tossed two scoreless innings as did Matt Voelzke of George Fox, who earned the clutch save.
Kelowna will host the Corvallis Knights in game one of the WCLCS on Tuesday, August 14 at Elks Stadium. Games two and three will shift to OSU's Goss Stadium in Corvallis on Thursday, August 16 and Friday, August 17 (if necessary).
The Falcons last appeared in the WCLCS in 2015 vs. the Bend Elks. This is Kelowna's second appearance in the WCLCS. Kelowna has a long history of producing future pros including current Mariners pitching star James Paxton and former AL Home Run king Chris Davis of Baltimore.
Photo Credit: Cary Mellon.
ABOUT THE WEST COAST LEAGUE
The West Coast League (WCL) is the premier summer collegiate baseball league west of the Mississippi. The 14-year-old, 11-team, professionally operated wood-bat league located in the beautiful Pacific Northwest showcases pro prospects from major national conferences from June through the middle of August. The WCL features an unparalleled history of memorable fan and player experiences, and the best summer weather in North America. In 2018, 72 players with WCL experience were selected in Major League Baseball's June amateur draft. 271 WCL alums appeared or were active in affiliated professional baseball in 2017, including 31 in the major leagues, such as 2015 home-run leader Chris Davis (Baltimore); record-breaking rookie slugger Rhys Hoskins (Philadelphia); rising star pitchers James Paxton (Seattle) and Matt Boyd (Detroit); and 2018 AL All-Star outfielder Mitch Haniger (Seattle). Overall member attendance was 412,392 last summer, an increase of nearly nine percent year to year.