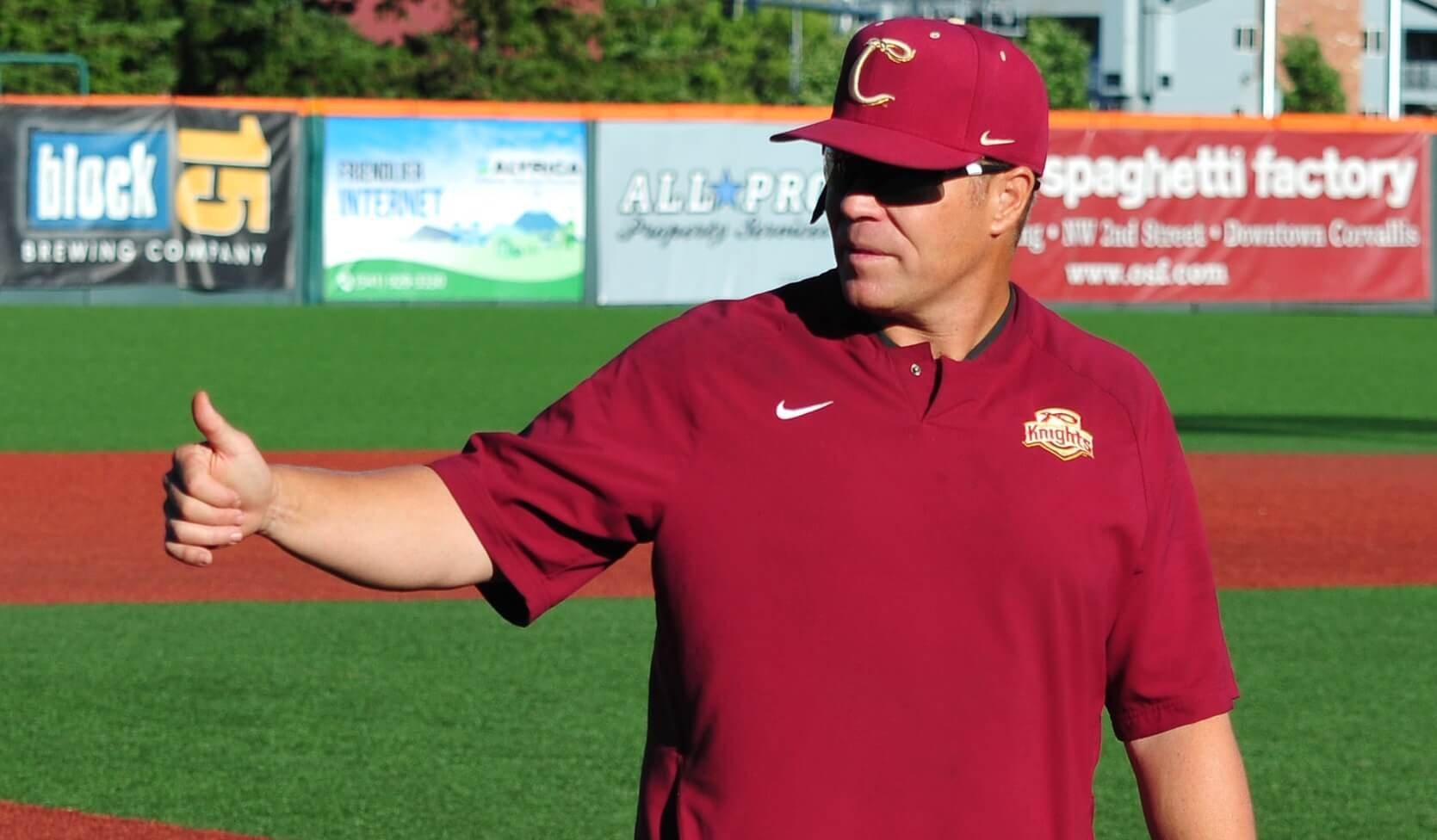 April 16, 2020
By Rob Neyer
It definitely felt like the end of the road.
This January, Perth Heat manager Brooke Knight and his Australian Baseball League team were many thousands of feet in the air, nearly home after a tough series in Adelaide: three one-run losses in four games to the first-place Bite. But now, with Virgin Australia Flight 721 suddenly pitched crazily downward, Knight wasn't wondering how to get his contending Heat back on track. Instead he wondered if he would ever see his family again; wondered if maybe his latest austral adventure would be his last.
But there had been so many adventures before!
This (Australian) summer marked Knight's return to the country, continuing a long history that began in August of 1996, when he arrived with "eight or ten dollars in my pocket."
By that point, the Corvallis, Oregon native had spent a season in the Brewers' farm system, then joined the Pirates for spring training in '96. "I was going to be the third catcher in Augusta," Knight said, "I was getting a little frustrated and said, "Hey, that's probably not for me.'"
Ex-major leaguer Pete Vuckovich, then the Pirates' general manager, said, "Great, I'll get you on a plane tomorrow. Sign this, we'll get you outta here."
And so ended Knight's playing career in affiliated professional baseball.
But that August he landed in Australia, and would eventually play on a couple of championship teams in the late '90s. During those years, he also married Karlie, a Perth native; in 1999, their son Briley was born in Australia. Knight soon transitioned to coaching, and a decade later became manager of the Perth Heat in a re-formed Australian Baseball League; in his first two seasons, the Heat captured consecutive ABL championships.
With Briley playing football and baseball back in Corvallis, Knight took a few (American) winters off, then returned to coach the Adelaide Bite for two seasons. And last fall, Knight returned to Perth once more, shortly after guiding the West Coast League's Corvallis Knights to their (and his) fourth straight championship.
On January 12, the Heat were flying home from Adelaide. "We're 30 minutes outside Perth," Knight recalled, "and the flight attendant gets on the mic and says it's time to stow the tray tables, seats up; the routine things. And then over the top of this I heard EMERGENCY DESCENT, EMERGENCY DESCENT.
"Thirty or forty seconds later, we go into a controlled dive. Later somebody said it was 45 degrees, which it wasn't. Maybe 10 degrees, but that's relatively steep and it really feels steep. Then there's a BOOM, and we're slapped in the face with oxygen masks and hoses."
Has anyone in the history of commercial aviation not been terrified when the oxygen masks exploded from above?
"Where before I was maybe 4 or 5 on the anxiety scale," Knight said, "now it's 7. Maybe 8. And all three guys in my row, the straps for our oxygen masks have broken and we're thinking: Oh shit. Now what do we do?
"The flight attendants are young, and one of them grabs a fire extinguisher and runs to the back of the plane. Another one gets on the mic, she's doing her best but clearly is terrified. Now I'm at 8 or 9. Mostly my thoughts were disappointment, with a little anger. And I'm hoping I've taught my son enough where he can live a normal life."
"We're going down quickly," Knight said, "but nobody's screaming. Gasps, yes. There were news reports that said the flight attendants were screaming; they weren't. But yeah, it felt like the end of the road; I think everyone on the team would agree."
"And then we level out. One of the pilots gets on and says, "For now, we have stabilized cabin pressure. We'll be maintaining this altitude for a while.' Then we had a slow and anxious 20 to 25 minutes, but at least the anxiety level went back to 6."
Ultimately the plane landed uneventfully. In Perth, one TV news report said the incident was due to a cabin-pressure "error" (whatever that means), and "no mayday call was made and there was no priority landing." Another report said, "There were cheers and tears when they finally touched down."
Australia's a big country, and there was still a baseball season to finish. When the Heat's jet went downhill fast, the team was 18-14 and still in the thick of the pennant race. The team would finish 23-17 to nab the fifth seed in the playoffs, before bowing to Canberra in a wild card playoff game. Later, Knight joined Team Australia's coaching staff before returning to the U.S. to recharge before another season with the dynastic Corvallis Knights.
The West Coast League and Australian Baseball League are separated by more than just the world's largest ocean.
"What's different," Knight said, "is that you've got quite a menagerie of ages, personalities, experiences. You've got young 'affiliated' American players, young affiliated Australians (probably born and raised in Perth), maybe an American or two who's played for a while, plus a few independent-ball guys, who still love the game and are supporting their families.
"So as you might imagine, goals and agendas tend to vary greatly across the board, and the challenge remains getting everyone rowing in the same direction. Always a lesson or two to be learned along the way."
Also along that way? This winter Knight worked with both MLB veteran/October hero Pete Kozma and Tampa Bay Rays prospect Jordan Qsar, who batted .321 and mashed 17 extra-base hits in 40 games with the Heat. Of Qsar—who coincidentally enough, starred for Corvallis in 2017—Knight says, "He's a really good athlete, has thunder in the barrel, just needs to cut down on the strikeouts."
Perhaps it's a bit of an upset that Knight's returning to the West Coast League this season. And no, not because of that balky airliner. Last fall, he seriously considered a return to affiliated baseball, all these years later.
"I love the Corvallis gig," Knight said. "I'm smart enough to know how lucky I am. But yes, I got an opportunity in November with an organization, to manage one of three teams. I went through the whole process."
Ultimately he decided to put those aspirations on hold. Knight's planning to see his son Briley, now a sophomore at the University of Utah and a budding prospect himself, play Pac-12 games before heading to the Cape Cod League for the summer. Oh, and of course there's always another West Coast League championship to win.
About the West Coast League: The West Coast League (WCL) is the premier summer collegiate baseball league west of the Mississippi. Situated in the beautiful Pacific Northwest, the fifteen-year-old, twelve-team, professionally operated wood-bat league showcases pro prospects from major conferences around the nation. Every summer, the league features unparalleled fan and player experiences, with the best summer weather in North America. Ninety alums and current players of WCL teams were selected in the 2019 MLB Draft, including No. 1 overall pick Adley Rutschman. In 2019, 317 WCL alums appeared or were active in affiliated professional baseball, including 45 in the major leagues, such as 2019 MLB All-Star Game MVP Shane Bieber (Cleveland Indians); star outfielder Mitch Haniger (Seattle Mariners); hurler James Paxton (New York Yankees); slugger Rhys Hoskins (Philadelphia Phillies); and rising star pitchers Marco Gonzales (Seattle Mariners) and Matt Boyd (Detroit Tigers). In 2019, overall member attendance increased to 497,050.