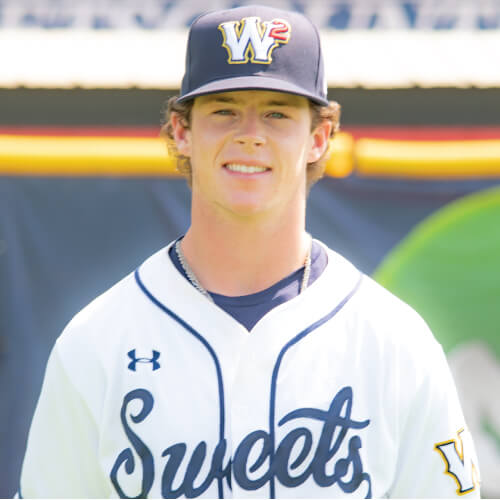 June 10, 2019
The West Coast League's Moss Adams Player of the Week and Pitcher of the Week, as announced by league commissioner Rob Neyer, are Santa Barbara City College outfielder Patrick Caulfield of the Walla Walla Sweets and Cal State Fullerton pitcher Joe Magrisi of the Yakima Valley Pippins for the week of June 4-9.
This summer's first position player pick was Patrick Caulfield, who has helped the Sweets jump out to a 6-0 start to the season. In six games Caulfield leads the WCL with .560 batting average, going 14-for-25 while adding seven stolen bases.
He is coming off of an outstanding campaign as a sophomore this spring with Santa Barbara CC. He hit .362 for the Vaqueros and was the team leader in runs batted in (35) and hits (54).
The inaugural pitching selection for 2019 was Joe Magrisi of Yakima Valley. The sophomore-to-be picked up the win against Wenatchee on June 7 after allowing just one hit in five scoreless innings. Over his two appearances this season he has ten strikeouts in six innings of work.
This past spring, he pitched in 11 games as a freshman for Cal State Fullerton. He went 1-3 and posted a 4.64 ERA.