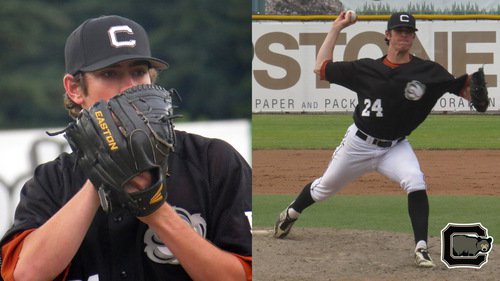 July 6, 2020
All 83 former West Coast League that have gone on to play in the Major Leagues are featured on the WCL's brand new alumni page. WCL alums reaching "The Show" include 2019 MLB All-Star Game MVP Shane Bieber (pictured) and emerging slugger Rhys Hoskins, along with standout hurlers such as James Paxton, Marco Gonzales, and Matt Boyd.
The updated WCL alumni page can be viewed by clicking here.
To date, 48 players with West Coast League experience have been named to Major League Baseball 60-man rosters for the 2020 season. These unprecedented 60-man rosters provide an expanded player pool from which each MLB team may draw, during the shortened season. Click here to view the list of former WCL players scheduled to participate in the training camp in place for the upcoming MLB season, slated to begin on July 23.
In addition to the players that have reached the big leagues, other WCL alums have gone on to thrive on the gridiron. Former WCL players Jordan Poyer and Jake Locker have played in the NFL. Poyer, a safety for the Philadelphia Eagles, who's set for his eighth season in the NFL, played for the Corvallis Knights in 2010 following his freshman season at Oregon State.
Locker, a native of Ferndale, Washington, played for the nearby Bellingham Bells in 2008. The star quarterback for the University of Washington went on to be selected by the Tennessee Titans with the eighth overall pick in the 2011 NFL Draft. Locker was also drafted by the Los Angeles Angels out of high school in 2006, but opted to focus on college football instead of playing pro baseball.
About the West Coast League: The West Coast League is the West's premier summer collegiate baseball league. Encompassing Oregon, Washington, and British Columbia, the WCL showcases pro prospects from major conferences around the nation. Every summer, the league features unparalleled fan and player experiences, with the best summer weather in North America. Last year's MLB amateur draft began with former Corvallis Knight Adley Rutschman selected with the overall No. 1 pick by the Baltimore Orioles. Also in 2019, 317 WCL alums appeared or were active in affiliated professional baseball, including 45 in the major leagues. In 2019, overall member attendance in the West Coast League increased to nearly half a million.