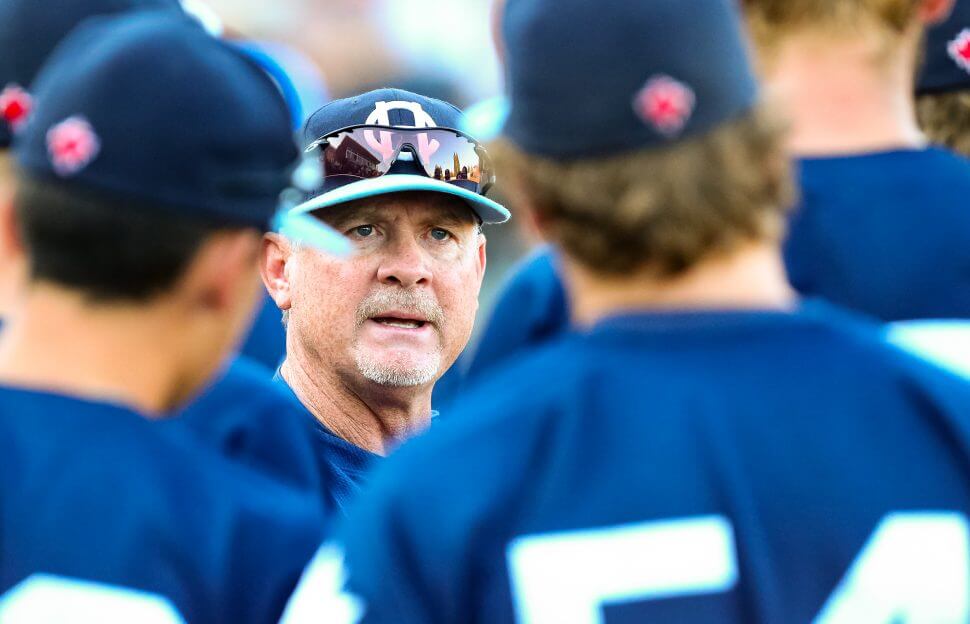 January 29, 2020
By Rob Neyer
Todd Haney, the ex-major leaguer who just signed a multi-year extension as the Victoria HabourCats' Head Coach, wasn't really supposed to play on baseball's biggest stage. Coming out of high school in Waco, Texas, he was barely recruited and wound up at tiny Panola College. While Haney did finish his college career as a Texas Longhorn, 38th-round draft picks aren't expected to get far in pro ball.
Haney made his professional debut in the summer of 1987, joining the Mariners' short-season affiliate in Bellingham, Washington (now, of course, home of the West Coast League's Bells).
"First day," Haney recalled, "we show up and get the usual speech: All right, look around guys—19 out of 20 of you won't play in the majors. Well, I look around and there's Ken Griffey Jr. He was 17. You always hear about the five tools. But this was the first time I said, now I see what a five-tool player actually is."
But Griffey wasn't the only future star among Haney's teammates in those early years. In 1990, Haney spent most of the season with Triple-A Calgary, playing second base next to first baseman Tino Martinez; some of the time, Omar Vizquel was Haney's double-play partner. "Tino wasn't just my teammate," Haney says, "he was also my roommate. Extremely talented, but also worked extremely hard."
Haney batted .339 with Calgary. But the M's had Harold Reynolds (and his Gold Glove) at second base, and the following winter they traded Haney to the Tigers for a pitching prospect. Which was hardly a glistening opportunity! Because with Lou Whitaker, the Tigers had their own diehard second baseman. And at the end of spring training, Detroit released Haney; a few days later he signed with the Montreal Expos.
That fall, Haney reached the majors with Montreal and spent a month with the Expos and legendary manager Felipe Alou. After spending all of 1993 with the Expos' Triple-A club, Haney became a Chicago Cub in 1994 and played for parts of three seasons in the majors; over the course of seven magical weeks in '95, he actually batted .411 before his season was ended by a broken thumb.
Beginning in 1997, though, Haney played nearly all his baseball in the minors; the only exception was three games with the Mets in 1998, and in all three he teamed up with former Cubs running mate Brian McRae.
"I just loved the game," Haney said, "Loved competing, loved the workouts, loved the process. It was just something that I enjoyed doing."
Finally, though, "I felt like I wasn't going to have the opportunity to play in the big leagues again; you kinda see the writing on the wall. We had a family business, so I stepped away from the game. But quickly I realized that baseball was still in my blood. I looked at multiple opportunities, and wound up starting a travel baseball team."
The family business was Profiles International, "a provider of employment assessment and talent management solutions"; the travel baseball team was the Waco Storm. Haney worked with Profiles International until 2014, when the company was sold. For most of that time he also coached with the Storm, and continued through 2017. That summer, he ran into Brian McRae, who coached a Kansas City travel team while also serving as Head Coach of the West Coast League's Victoria HarbourCats.
Their conversation led to Haney joining McRae's Victoria staff in 2018, then taking over as skipper upon McRae's departure prior to the '19 season. During which Haney merely led the HarbourCats to the league's second-best record and a winner-take-all game in the championship series. Along the way, Haney's been able to coach his son Tanner and enjoy the company of his wife Kira in what might be the Pacific Northwest's crown jewel.
"We have a great relationship," Haney says of young Tanner, who's slated for a return to Victoria in 2020. "He works very hard. Pushes himself very hard. I don't have to push him. Just a thrill to spend as much time with him as I have on a baseball field."
Meanwhile, "The City of Victoria is one of the most beautiful cities I've ever visited. Love the city, love the people. In Texas it's 110, and in Victoria it's 60 or 70. We love spending the summers up there."
As much as Todd Haney and his family have enjoyed Victoria, perhaps Victoria has enjoyed Todd Haney even more.
"He's been a perfect fit for us here," HarbourCats GM Jim Swanson said. "Todd really understands the development model, knows that developing young players in a winning atmosphere is the ultimate goal. He's a rookie [head] coach who put together a 39-win season, and there have been only two better seasons in our league's history."
Haney played for a lot of managers during his pro career, but there's one who seems to have stuck with him.
"I was with Felipe Alou just a short time," Haney said, "but he was an extremely intelligent manager, great communicator, with high expectations."
But while Haney might have come up in the 1980s and '90s, he's hardly stuck in the last century. "I embrace analytics," he said, "because they can only enhance your opportunity to succeed. I enjoy the technology, and players today are used to it. At the end of the day, it helps me be a better coach."
"When it came to a contract extension," Swanson said, "it was a no-brainer for us. We ripped up the old deal, now have him for three more years, 2020 through 2022. Although I won't be surprised if he gets a bigger opportunity somewhere and we're not able to keep him all three years."
In a sense, Todd Haney's baseball career began right here in the Pacific Northwest. But if he keeps winning in Victoria, it probably won't end here.
About the West Coast League: The West Coast League (WCL) is the premier summer collegiate baseball league west of the Mississippi. Situated in the beautiful Pacific Northwest, the fifteen-year-old, twelve-team, professionally operated wood-bat league showcases pro prospects from major conferences around the nation. Every summer, the league features unparalleled fan and player experiences, with the best summer weather in North America. Ninety alums and current players of WCL teams were selected in the 2019 MLB Draft, including No. 1 overall pick Adley Rutschman. In 2019, 317 WCL alums appeared or were active in affiliated professional baseball, including 45 in the major leagues, such as 2019 MLB All-Star Game MVP Shane Bieber (Cleveland Indians); star outfielder Mitch Haniger (Seattle Mariners); hurler James Paxton (New York Yankees); slugger Rhys Hoskins (Philadelphia Phillies); and rising star pitchers Marco Gonzales (Seattle Mariners) and Matt Boyd (Detroit Tigers). In 2019, overall member attendance increased to 497,050.