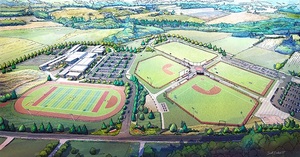 June 21, 2018
The West Coast League, together with Clark County and the cities of Ridgefield, Vancouver, Camas, Battle Ground, Washougal, and La Center, announced this afternoon the addition of a West Coast League expansion membership in the Clark County market, to begin play in the spring of 2019. The new team's home facility will be the Ridgefield Outdoor Recreation Complex (RORC), currently under construction and scheduled for completion in September 2018.
"As a league, we're thrilled with this expansion," said WCL Commissioner Rob Neyer. "The new stadium is a first-class facility in the heart of our footprint, in a community with deep grass-roots passion for baseball."
It is anticipated that the yet-unnamed team will play in the League's Southern Division, together with Bend, Corvallis, Cowlitz, Portland, and Walla Walla.
"Ridgefield has been a dynamic, proactive expansion partner," added Neyer. "The area is growing quickly, and our process in bringing a new team exemplifies why."
The RORC's 1,800-seat stadium venue broke ground in the spring, and will anchor the multi-field complex.
"We believe this facility and this team will be a regional attraction," said Ridgefield City Manager Steve Stuart, "It has been a long-term effort to attract a team to the area, and we are thrilled with how it has come together."
The new team expects to make staffing announcements in coming weeks, with the team name announcement slated for the end of the summer.
"We are looking forward to engaging with the community on the team's identity," said Tony Bonacci, spokesperson for the ownership group. "We are going to hit the ground running, with developments throughout the summer."
ABOUT THE WEST COAST LEAGUE
The West Coast League (WCL) is the premier summer collegiate baseball league west of the Mississippi. The 14-year-old, 11-team, professionally operated wood-bat league located in the beautiful Pacific Northwest showcases pro prospects from major national conferences from June through the middle of August. The WCL features an unparalleled history of memorable fan and player experiences, and the best summer weather in North America. In 2018, 72 players with WCL experience were selected in Major League Baseball's June amateur draft. 271 WCL alums appeared or were active in affiliated professional baseball in 2017, including 31 in the major leagues, such as 2015 home-run leader Chris Davis (Baltimore); record-breaking rookie slugger Rhys Hoskins (Philadelphia); rising star pitchers James Paxton (Seattle) and Matt Boyd (Detroit); and outfielder Mitch Haniger (Seattle). Overall member attendance was 412,392 last summer, an increase of nearly nine percent year to year.