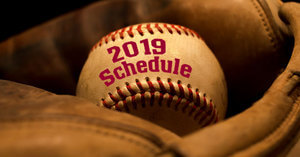 November 1, 2018
The West Coast League unveiled its official 2019 schedule today as announced by commissioner Rob Neyer.
Located in the beautiful Pacific Northwest and established in 2005, the premier summer collegiate baseball circuit west of the Mississippi showcases top collegiate baseball players from across North America in 12 markets throughout Washington, Oregon and British Columbia, Canada.
Opening Day 2019 is set for Tuesday, June 4. All 12 WCL teams will be in action to begin the season on June 4.
The WCL's newest team, the expansion Ridgefield Raptors, will play in the WCL's South Division. The Raptors addition allows the league to have a balanced divisional alignment, featuring two six-team divisions. Ridgefield will play their first game in franchise history at home on June 4 against the Yakima Valley Pippins.
This summer's WCL All-Star Game will be hosted by the Bend Elks on Tuesday, July 23 at Vince Genna Stadium.
Member clubs have the option to add non-counting, non-league games to their schedules. These out-of-league contests get added after the release of the official WCL schedule.
Click here to view the complete 2019 WCL schedule.
ABOUT THE WEST COAST LEAGUE
The West Coast League (WCL) is the premier summer collegiate baseball league west of the Mississippi. The 14-year-old, 12-team, professionally operated wood-bat league located in the beautiful Pacific Northwest showcases pro prospects from major conferences across the nation June through August. Out west, the league features an unparalleled history of memorable fan and player experiences and the best summer weather in North America. 72 players with WCL experience were selected in the MLB 2018 June draft. 294 WCL alums appeared or were active in affiliated professional baseball in 2018 including 39 in the major leagues, such as 2015 home-run leader Chris Davis (Baltimore); slugger Rhys Hoskins (Philadelphia); rising star pitchers James Paxton (Seattle) and Matt Boyd (Detroit); and all-star outfielder Mitch Haniger (Seattle) and closer Bud Norris (St. Louis).