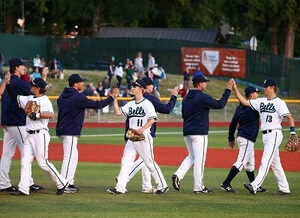 July 5, 2018
The first two spots in the 2018 West Coast League playoffs have been secured by the Bellingham Bells and Portland Pickles. The Bells have clinched the first-half North title while the Pickles locked up the first-half title in the South.
Bellingham will look to make a return trip to the WCL championship series in 2018. The Bells were WCL champs in 2014 and made it back to the WCLCS in 2016, where they ultimately fell to the Corvallis Knights. Bellingham's pitching staff has been especially stellar in 2018. UCLA freshman-to-be Nick Nastrini's 0.39 ERA is the lowest in the WCL. In addition Pacific Lutheran University sophomore-to-be Justin Armbruester has the most strikeouts in the league this summer, with 40 in just 26 innings of work.
Portland has enjoyed instant success since joining the WCL this season. The Pickles have been particularly strong on offense. Cal State Northridge senior-to-be Joey Cooper leads the WCL with six home runs and current WCL Moss Adams Player of the Week Zander Clarke has the most RBIs in the circuit so far this summer. The UC San Diego senior-to-be has 24 RBIs in just 14 games.
This is the third season the WCL has had a split schedule with a first-half and second-half winner.
ABOUT THE WEST COAST LEAGUE
The West Coast League (WCL) is the premier summer collegiate baseball league west of the Mississippi. The 14-year-old, 11-team, professionally operated wood-bat league located in the beautiful Pacific Northwest showcases pro prospects from major national conferences from June through the middle of August. The WCL features an unparalleled history of memorable fan and player experiences, and the best summer weather in North America. In 2018, 72 players with WCL experience were selected in Major League Baseball's June amateur draft. 271 WCL alums appeared or were active in affiliated professional baseball in 2017, including 31 in the major leagues, such as 2015 home-run leader Chris Davis (Baltimore); record-breaking rookie slugger Rhys Hoskins (Philadelphia); rising star pitchers James Paxton (Seattle) and Matt Boyd (Detroit); and outfielder Mitch Haniger (Seattle). Overall member attendance was 412,392 last summer, an increase of nearly nine percent year to year.