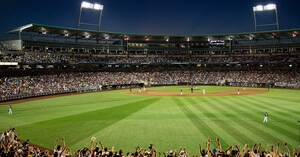 May 6, 2014
The Road to Omaha – The NCAA Div-1 baseball season explained
by Brian Hayes
HarbourCats Baseball Blog writer
While West Coast League fans await the beginning of summer and the start of the 2014 season, many of the athletes that will be filling WCL rosters spent the spring competing for NCAA teams hoping to lead their team to a College World Series championship. The NCAA season runs from February to May, with the post-season starting May 30 and running through mid-June. On May 26, the NCAA announced its field of 64. We'll explain more later.
Like most NCAA sports, the season and playoff formats are much different than professional leagues, and if you are following future and past WCL players as they progress through the year, it's worth explaining how the NCAA Division 1 baseball season works.
Division 1 baseball teams, like other NCAA sports, are members of conferences. There are 32 conferences in total – most are named and populated on a strictly geographic basis (Northeast, Southern, Ohio Valley, etc.), but some are based on traditional and historical groupings (Ivy League, Big 10, etc.). Regardless of the grouping, the goal of each team in every conference is the same – win your conference, and earn a berth in the post-season.
To win a conference, as one would suspect, a team plays games against the other conference teams. Roughly 30 games a season are played against conference foes, usually in 3-game series that minimize travel costs. A team's record in those games determine their conference position. In five of the 32 conferences, if a team finishes the season in first place in the standings, they are awarded an automatic NCAA Regional berth. In the other 27, the team that finishes first in the conference earns a top-seed in its double-elimination conference tournament and some host (if not played at a neutral site). The winner qualifies, earning the conference's automatic berth. That accounts for 32 Regional teams.
However, the NCAA Regionals feature 64 teams – so queue the crazy college baseball ranking model! The remaining 32 spots are picked by a selection committee and that committee uses its best judgement and a complicated ranking system (RPI) based on the results of all games played by every NCAA school during the year – and that means more than just conference games. Teams play 25 or so additional games per season against non-conference opponents. These non-conference games are set up prior to the season (and in some cases many years in advance) by coaches simply calling or emailing each other to schedule games. It's a very calculated process however – a team wants to play other top-ranked squads that will help improve their RPI, but not play teams so tough they end up losing too many games. Combining conference games and non-conference contests, the rating system calculates and helps determine the 32 additional "at large" teams picked by the NCAA selection committee. These spots complete a 64-team tournament that features 16 NCAA Regionals from Corvallis, Oregon to Tallahassee, Florida this season (click here to check out this season's bracket). This year's hosts are WCL partner schools Oregon State and Cal Poly; and Oklahoma State, Rice, TCU, Louisiana-Lafayette, LSU, Indiana, Louisville, Ole Miss, Vanderbilt, Florida State, Miami, Florida, South Carolina and Virginia. Oregon State (42-12) is the #1 national seed. The other National seeds, in order, are Florida (40-21), Virginia (44-13), Indiana (42-13), Florida State (43-15), La.-Lafayette (53-7), TCU (42-15) and LSU (44-14-1).
Eight National seeds are determined and Regional tournaments are scheduled by the selection committee with the top 16 seeds hosting NCAA Regionals. National seeds are set to host Super Regionals if they advance. Each Regional is a 4-team double-knockout elimination tournament (once a team loses two games, they are eliminated). One team is crowned the champion of each Regional, resulting in a "Sweet 16" of teams continuing in the post-season.
These remaining 16 teams are seeded once again and placed into 8 "Super Regional" groupings of two teams each. Typically the top-ranked team hosts again (national seeds automatically host) a best-of-three series that determines who advances to the College World Series tournament held each June in Omaha, Nebraska.
With a ticket to Omaha, the remaining 8 teams travel to Nebraska and are placed into two 4-team groupings based on seedings, and each group plays another double-knockout tournament. The two group winners finally play for the College World Series title in a best-of-3 series showcased on ESPN.
If you've been counting games to this point, you see what makes the NCAA baseball tournament unique – you can lose a total of 4 games on your journey and still win a national title.
For a college ballplayer, the Road to Omaha is a season-long journey. No dogging it through the regular season, no bad games. Each at-bat, every pitch, and every ball hit in your direction may make the difference in a ranking that moves your team forward to the round of 64, or out of the tournament picture. Unlike most professional sports we are accustomed to following, these kids play to win every game. Considering most of these players are just barely out of high school, the pressures to perform (and maintain grades, and manage the social aspects of college life) is extraordinary.
No doubt a summer playing ball in front of friendly West Coast League fans will be a welcome relief these boys are looking forward to – almost as much as we are!