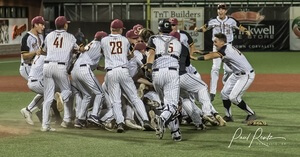 August 17, 2018
The Corvallis Knights outlasted Kelowna 5-1 in a hard-fought WCLCS game two battle at OSU's Goss Stadium before a crowd of 1,286 on Thursday, August 16.
With the win, Corvallis swept the Falcons to earn back-to-back-back WCL championships. The title is the Knights sixth, as Corvallis has captured West Coast League crowns in 2008, 2011, 2013, 2016, 2017 and now 2018.
Game two featured excellent starting pitching by Connor Redmond (Cal Poly) of Corvallis and Jared Akin (Concordia) of Kelowna. Redmond would toss 6 2/3 innings to earn the win, giving up only one run, a solo homer by Garrett Kelly (UC Davis), while striking out 8 and walking only one.
Knights reliever Abbott Haffar (UC Riverside) twirled 2 1/3 innings of perfect relief, including four strikeouts, to earn the save.
Corvallis broke a 1-1 tie in the third-inning on a RBI single by Cody Hawken (Portland). The Knights added three insurance runs in the 8th as Chad Stevens (Portland) delivered a one-out sacrifice fly and Cole Cabrera (Cal Poly) a two-out, two-run single.
The final play of the WCL season was made on a spectacular play up the middle by future Oregon State Beavers shortstop Beau Philip, who also made a great defensive play to open game two.
To check out last night's box score, click here.
ABOUT THE WEST COAST LEAGUE
The West Coast League (WCL) is the premier summer collegiate baseball league west of the Mississippi. The 14-year-old, 11-team, professionally operated wood-bat league located in the beautiful Pacific Northwest showcases pro prospects from major national conferences from June through the middle of August. The WCL features an unparalleled history of memorable fan and player experiences, and the best summer weather in North America. In 2018, 72 players with WCL experience were selected in Major League Baseball's June amateur draft. 271 WCL alums appeared or were active in affiliated professional baseball in 2017, including 31 in the major leagues, such as 2015 home-run leader Chris Davis (Baltimore); record-breaking rookie slugger Rhys Hoskins (Philadelphia); rising star pitchers James Paxton (Seattle) and Matt Boyd (Detroit); and 2018 AL All-Star outfielder Mitch Haniger (Seattle). Overall member attendance was 412,392 last summer, an increase of nearly nine percent year to year.