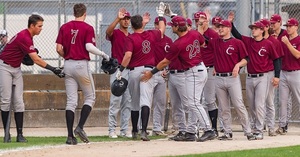 August 15, 2018
Two-time defending WCL champion Corvallis slugged its way to a 1-0 lead in the 2018 West Coast League Championship Series by outdistancing host Kelowna 17-6 at Elks Stadium in British Columbia, Canada.
The Knights scored 8 runs in the top of the first to set the tone. 13 Corvallis batters came to the plate in the first. The big opening inning featured a three-run homer by future University of Portland first baseman Trace Tammaro.
Corvallis would go on to pound out 23 hits on the night. Starting pitcher Kolby Somers of University of Oregon got the win for the Knights, as he tossed 5 solid innings.
A trio of Knights collected four hits each; second baseman Chad Stevens (Portland), outfielder Chandler Anderson (Utah) and shortstop Beau Philip (Oregon State). Tammaro banged out three hits and knocked in 5 runs.
Game two of the WCLCS is set for Thursday, August 16 at OSU's Goss Stadium with a first pitch of 6:30 pm. It's a must win for Kelowna to force a decisive game three at Goss Stadium on Friday, August 17.
Photo Credit: Greystoke Photography.
ABOUT THE WEST COAST LEAGUE
The West Coast League (WCL) is the premier summer collegiate baseball league west of the Mississippi. The 14-year-old, 11-team, professionally operated wood-bat league located in the beautiful Pacific Northwest showcases pro prospects from major national conferences from June through the middle of August. The WCL features an unparalleled history of memorable fan and player experiences, and the best summer weather in North America. In 2018, 72 players with WCL experience were selected in Major League Baseball's June amateur draft. 271 WCL alums appeared or were active in affiliated professional baseball in 2017, including 31 in the major leagues, such as 2015 home-run leader Chris Davis (Baltimore); record-breaking rookie slugger Rhys Hoskins (Philadelphia); rising star pitchers James Paxton (Seattle) and Matt Boyd (Detroit); and 2018 AL All-Star outfielder Mitch Haniger (Seattle). Overall member attendance was 412,392 last summer, an increase of nearly nine percent year to year.