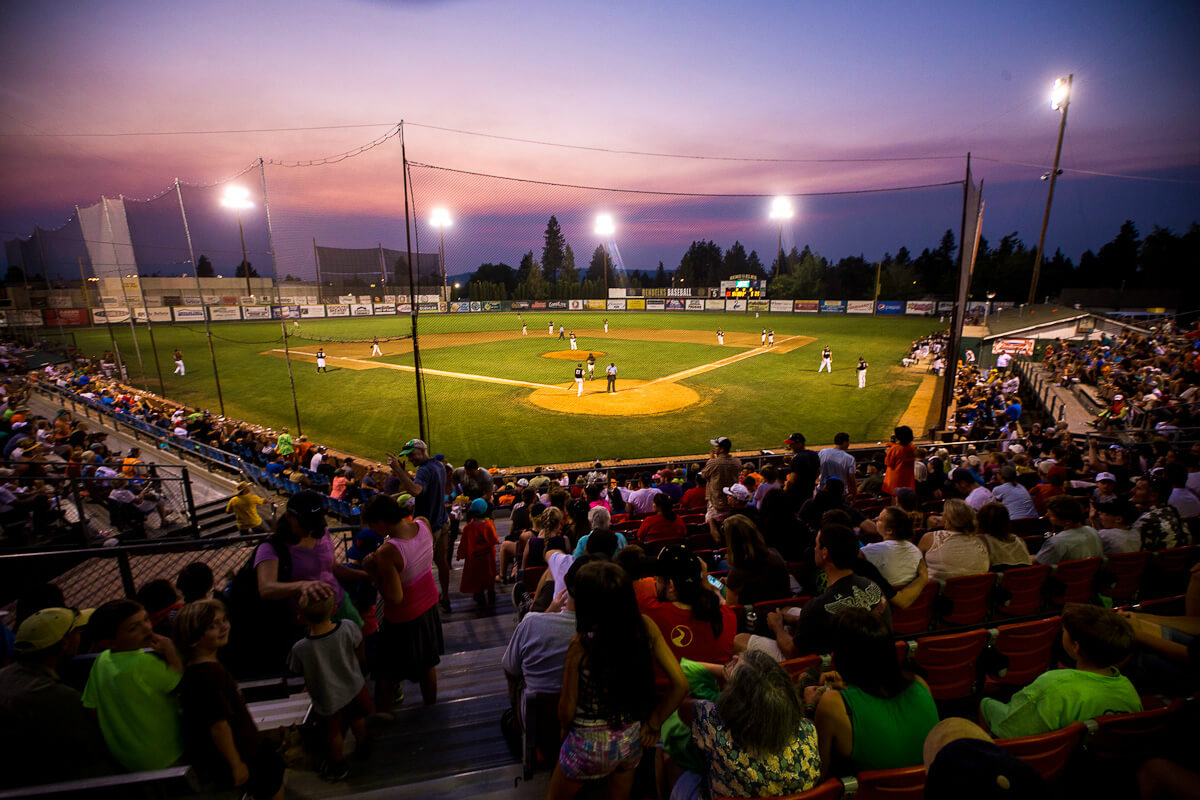 January 22, 2020
By Rob Neyer
In part one of this two-part series, we looked at the rich baseball history of the West Coast League's six North Division cities. Here in part two, we'll look at the South's similarly fascinating baseball legacy…
Obviously, the history of summer baseball in Portland, Oregon—now home to the internationally famous Pickles—is far too voluminous to barely begin recounting here. But for a flavor, let us remember the Northwest League's independent Portland Mavericks, so wonderfully memorialized in the 2014 documentary, Battered Bastards of Baseball. Big-time baseball existed for decades before the Mavericks, of course, and would exist in the decades after. But it wasn't until 2017, when Alan Miller and Jon Ryan joined Pickles ownership, that the spirit of the Mavericks once again graced the Rose City. And so next summer, when you see a Pickles game in Walker Stadium, you'll get more than just a hint of the Mavericks' legacy. Which is a very, very fine thing.
Just down the freeway from Portland, Corvallis today can boast two dynastic teams, both playing on the same grounds: Oregon State University's Goss Stadium at Coleman Field, with the field hosting baseball games on campus since 1907. (Prior to OSU's 1999 season, Coleman Field was significantly remodeled, with "Goss Stadium" added to the facility's name.)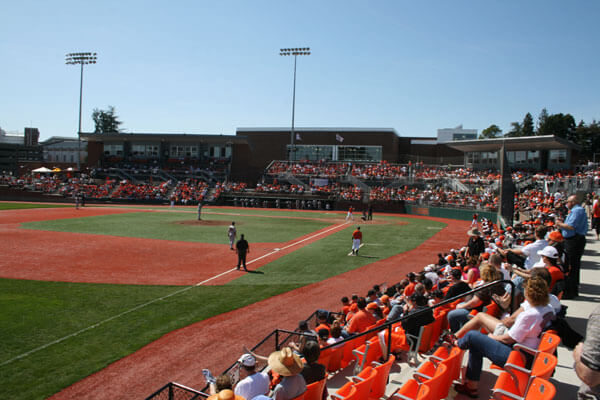 In Oregon State's 100th baseball season, the Beavers won their first NCAA championship … and then a year later became only the fifth team to win two straight. That same year (2007), the West Coast League's Aloha Knights first joined the Beavers in Goss Stadium, and in the years since the Knights have won seven WCL championships. Meanwhile, the Beavers annexed their third College World Series in 2018 (the Knights won a title that summer, too).
Goss Stadium is reportedly the oldest continuously used baseball field in America. And over the last fifteen years, it's highly likely that no other field has hosted so many championship teams.
Just over the Cascades from Corvallis, the Bend Elks play in historic Vince Genna Stadium, which first opened for business in 1964 as Municipal Ball Park. Six years later, professional baseball arrived in Bend when the Rainbows came to down? Why the Rainbows? Because this new Northwest League team was (officially) affiliated not with a major league franchise, but instead with the Pacific Coast League's Hawaii Islanders; the two most notable Rainbows during their two-year stay were future big-league manager (and native Portlander) Tom Trebelhorn and once-and-future movie star Kurt Russell.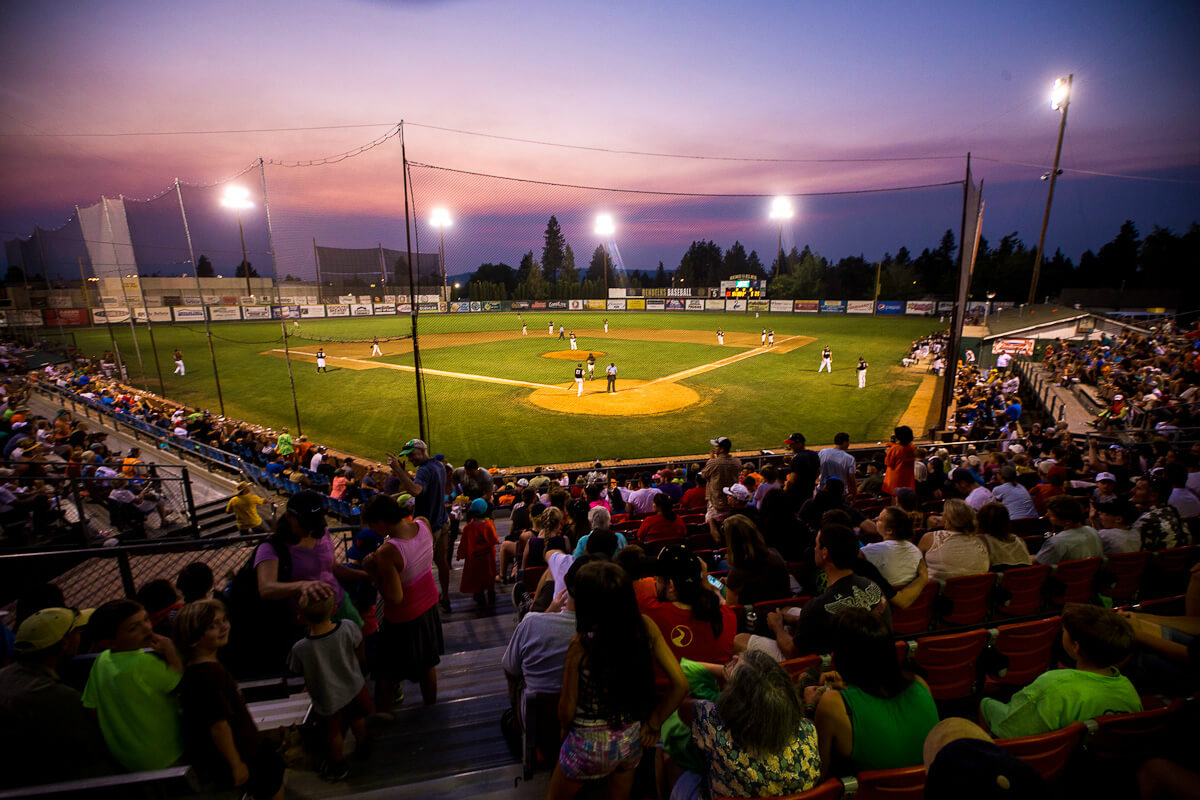 After a six-year absence, the Northwest League returned to Bend in 1978, and the following years saw a variety of names and affiliations: Bend Timber Hawks, Central Oregon Phillies, Bend Phillies, Bend Bucks, and Bend Rockies. Among the many future major league Phillies to play in Bend were Juan Samuel and Julio Franco. After 1994, Bend's Rockies moved to Portland, but Genna Stadium was immediately occupied by the independent Western League's Bend Bandits, who lasted four seasons.
Genna Stadium lay somewhat fallow in 1999 … but the Elks arrived in 2000, and ever since have been a summer tradition as Bend has become a year-round destination city and retirement haven.
If you head north from Bend, eventually you'll hit the Columbia River. Hang a right, and eventually you'll reach the Walla Walla Valley. Hang another right, and soon you'll be in Onion Country … then, Wheat Country.
And finally, Baseball Country. Because professional baseball in Walla Walla proper goes all the way back to 1891, and the one-season, 30-game Pacific Interstate League. In this singular case, it's worth revisiting all four team names: Baker City Bunch Grasses, La Grande Grand Rhonders, Pendleton Ho Hos, and (wait for it) … the Walla Walla Walla Wallas. Later, Walla Walla played in the Inland Empire League (first they were the Sharpshooters, then the Walla Wallas again) and the Western Tri-State League (Bears). But after 1914, there was a long, long absence of pro baseball in the area.
Finally, in 1969 the Northwest League came to Walla Walla for the first time; for one season they were the Bears, followed by two seasons as the Phillies (for their parent club). In 1972, the Phillies were gone and Walla Walla's team got a new name: Islanders … which seems strange until you discover they were, like Bend's Rainbows, affiliated with the PCL's Islanders (who were, it should be said, affiliated with the San Diego Padres; the '70s were weird). Like the Bend Rainbows, the Islanders would feature the talents of Tom Trebelhorn and future Portland Maverick Kurt Russell.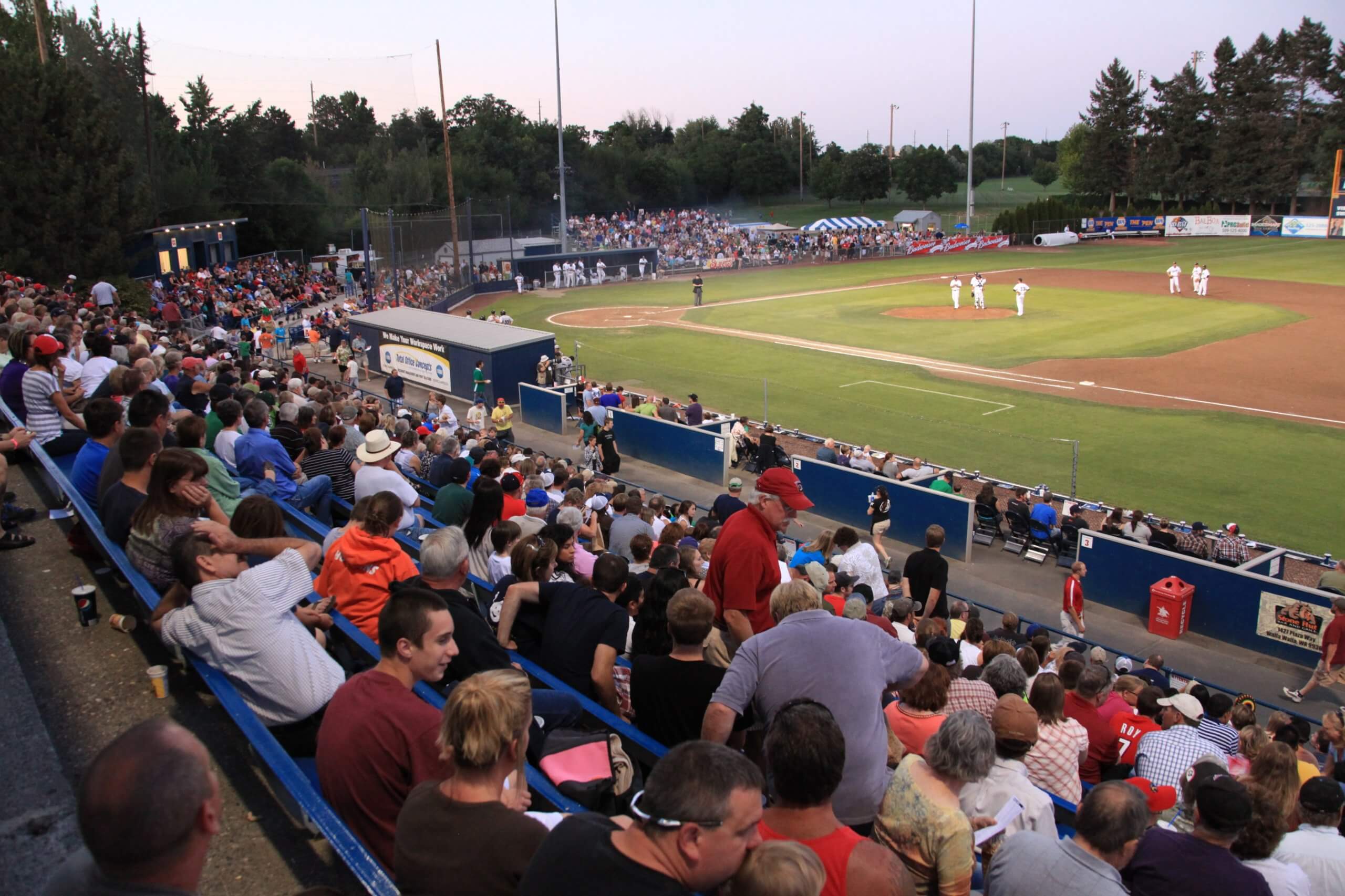 But in 1973, the Islanders became the Padres—officially affiliated with San Diego—and remained so for 10 seasons, during which a number of future big leaguers played in rustic Borleske Stadium, but most notably Ozzie Smith and Tony Gwynn. (Oh, and John Kruk. One must never forget John Kruk.) The Padres withdrew after 1982, and Walla Walla would spend just one more season in the Northwest League, as the independent Bears.
Borleske Field, home of local sports since 1926, hardly went empty when the Northwest League left Walla Walla. There was still Walla Walla High School football, and Whitman College baseball. But summer sport finally returned in 2009 with the West Coast League's expansion Sweets, and today the tradition continues as tourists flock to the Walla Walla Valley to sip wine and, yes, take in baseball at Borleske.
Head back to the Columbia River, then follow it west for a few hours—on the more scenic Washington side, mind you—and you'll arrive in Ridgefield, a once-small town that's recently become a good-sized bedroom community, a part of the teeming Portland-Vancouver metropolis … and, since the summer of 2019, the home of the WCL's Ridgefield Raptors. Before taking in a Raptors game, there's Ridgefield's historic downtown to explore, not to mention one of the region's top National Wildlife Refuges.
And finally, not far downstream—or up Interstate 5, as most of us get there—are the twin cities of Kelso and Longview. In the spring, Longview's David Story Field hosts the Lower Columbia College Red Devils, longtime powerhouse program in the Northwest Athletic Conference. The Red Devils won five NWAC championships in the 1990s, and more recently have won four titles in five years (including each of the last three). Lower Columbia's most famous alumni? Nirvana bassist Krist Novoselic, and Red Devils legend Bud Black, a Longview native who pitched for two seasons at LCC, before eventually winning 121 games as an MLB pitcher and managing in the majors for (so far) a dozen seasons.
Oh, and during our perfect Pacific Northwest summer? David Story hosts the West Coast League's Cowlitz Bears, who sport some of the prettiest uniforms you'll ever see on the diamond. And you really can't beat the Longview sunsets … or the West Coast League's continuing baseball legacy.
About the West Coast League: The West Coast League (WCL) is the premier summer collegiate baseball league west of the Mississippi. Situated in the beautiful Pacific Northwest, the fifteen-year-old, twelve-team, professionally operated wood-bat league showcases pro prospects from major conferences around the nation. Every summer, the league features unparalleled fan and player experiences, with the best summer weather in North America. Ninety alums and current players of WCL teams were selected in the 2019 MLB Draft, including No. 1 overall pick Adley Rutschman. In 2019, 317 WCL alums appeared or were active in affiliated professional baseball, including 45 in the major leagues, such as 2019 MLB All-Star Game MVP Shane Bieber (Cleveland Indians); star outfielder Mitch Haniger (Seattle Mariners); hurler James Paxton (New York Yankees); slugger Rhys Hoskins (Philadelphia Phillies); and rising star pitchers Marco Gonzales (Seattle Mariners) and Matt Boyd (Detroit Tigers). In 2019, overall member attendance increased to 497,050.