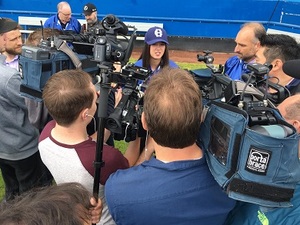 May 16, 2017
It is a landmark day for the Victoria HarbourCats and the West Coast League, as the HarbourCats announced the signing of left-handed pitcher Claire Eccles, who is set to become the first female player in WCL history.
Eccles, 19, represented Canada at the 2016 Women's Baseball World Cup in South Korea last September, making two appearances including a complete game in her one start. In 8.2 innings pitched in the tournament, Eccles allowed just two hits while striking out five batters. Canada finished the Women's Baseball World Cup in second place, capturing the silver medal.
"I'm extremely excited to be getting the opportunity to play at such a high level of ball, and being the first female in Canada to do so," said Eccles. "The HarbourCats seem like an amazing organization and I can't wait to play for them. As much as this is an accomplishment for myself, I can't help but realize that this is a step in the right direction for any girl with a dream of playing baseball. There's a bigger picture out there."
"On behalf of the Women's National Team program, we would like to congratulate Claire and wish her success with the HarbourCats this season," said Andre Lachance, manager of Baseball Canada's Women's National Team.
A graduate of Elgin Park Secondary in Surrey, B.C., Eccles batted .293 as a sophomore outfielder for the University of British Columbia softball team this spring. A fellow outfielder on the team is Mackenzie Siddall, daughter of Toronto Blue Jays radio broadcaster and former major league player Joe Siddall.
"We are excited to add Claire to the HarbourCats, and can't wait to see her getting a chance to throw for us and compete for innings out of the bullpen," said Brad Norris-Jones, General Manager of the HarbourCats. "Claire has competed at and been successful at many levels of the game, playing against both women and men, and we think her poise on the mound and experience internationally will give her a chance to get the outs we need."
"The West Coast League is about providing opportunities," said Tony Bonacci, Acting President of the West Coast League and President of the Cowlitz Black Bears. "We are all looking for talented, competitive players to improve our ball clubs. Claire has demonstrated both, and we congratulate her and the HarbourCats on what is a tremendous opportunity for both of them."
Eccles, listed at 5'8", was introduced to the media at a press conference in Victoria on Tuesday, May 16 at 1:00 pm at Royal Athletic Park, and helped the team unveil its new uniforms that will be worn for games this season under new Head Coach Brian McRae.
She will be with the HarbourCats throughout the season, but commitments with Team Canada and elite softball programs will take her away at times. She is scheduled to join the HarbourCats in Victoria on June 6 prior to their game against the Wenatchee AppleSox.
The HarbourCats open the 2017 WCL season on June 1 on the road against the WCL's newest team, the Port Angeles Lefties. Their home opener at Royal Athletic Park is June 5 when the Wenatchee AppleSox visit Victoria.
ABOUT THE WEST COAST LEAGUE
The West Coast League is the premier summer collegiate baseball league west of the Mississippi. The 13-year-old, 11-team, professionally operated wood-bat league located in the beautiful Pacific Northwest features pro prospects from major conferences across the nation and an unparalleled history out west of great fan and player experiences in addition to the best summer weather in North America. In 2016, 88 players with WCL experience were selected in the MLB June draft, and more than 230 WCL alums appeared in affiliated professional baseball including 28 in the major leagues, such as 2015 home-run leader Chris Davis (Baltimore), 2015 NL Rookie of the Year runner-up Matt Duffy (Tampa Bay) and rising star pitchers Matt Andriese (Tampa Bay), Matt Boyd (Detroit) and James Paxton (Seattle). Overall member attendance was 379,611 this past season.