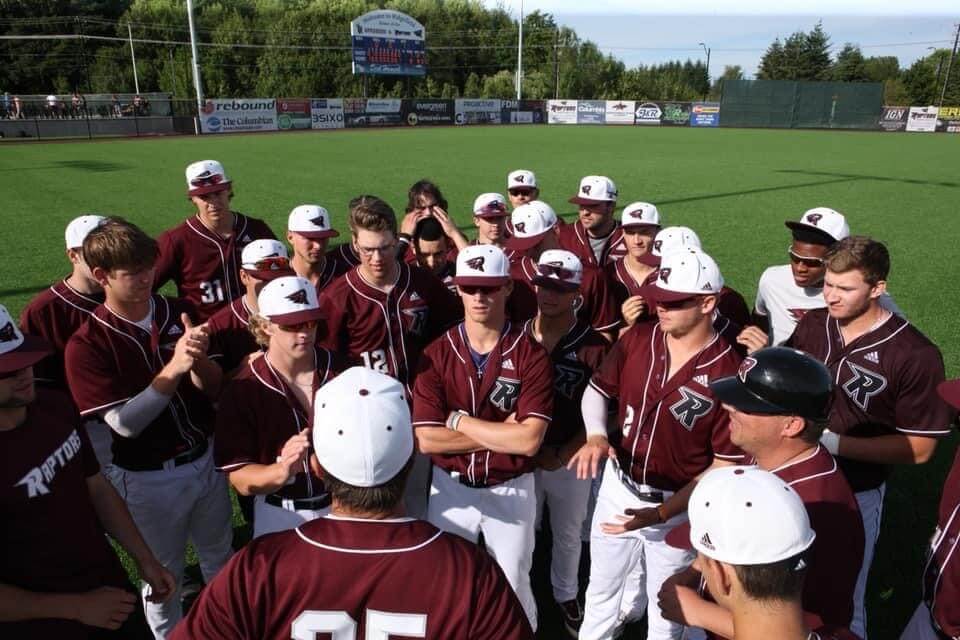 August 10, 2021
The West Coast League enters the final days of an already unprecedented regular season with not two, or even three, but four teams with highly viable paths to the league's fourth and final postseason berth.
The bracket is set in the WCL's North Division, as the Yakima Valley Pippins finished atop the first-half standings, and the Bellingham Bells recently grabbed the North's second playoff spot by clinching the division's second-best overall record (behind the Pippins). This Saturday, the Bells host the Pippins in Game 1 of their best-of-three Divisional Series, before the two teams head to Yakima Valley for Game 2 and a potential Game 3.
In the South, though, all we know is that the Corvallis Knights, defending West Coast League champions and this season's first-half winner, will host Game 2 of their playoff series Sunday night.
Who will host the Knights in Saturday's Game 1, though?
There are four other teams in the South, and three of them—the Bend Elks, Portland Pickles, and Ridgefield Raptors—are tied for the second-best overall record in the division. Meanwhile, the Cowlitz Black Bears are just a game behind that trio. And with Corvallis having locked up the South's best second-half record, too, overall second-best means that coveted second playoff spot.
But with four teams either tied or within a game of each other in the standings, and only three games to play for each team, there might well be a tie for second-best. A tie among two teams. Or three. Or even four.
Hello, tiebreakers. From the West Coast League's playoff procedures:
Tiebreaker #1: best head-to-head record over the course of the entire season (not just the second half).

Note: In the event that more than two teams (not including the first-half winner) are tied, "head-to-head" records for each team will consist of that team's record within the entire tied group of teams. This applies to all tiebreakers involving head-to-head results. Example: If Teams A, B, and C are tied, consider Team A's overall record vs. Teams B and C; Team B's record vs. Teams A and C; and Team C's record vs. Teams A and B.

Note: If multiple teams are tied for the best head-to-head record within the group, remaining team or teams are eliminated before returning to Tiebreaker #1.

Note: If the team that won the first half is among the teams tied for the best second-half record, then that team is not considered for head-to-head tiebreaking purposes. In the first Note above, if Team C was the first-half winner, then head-to-head results are exclusively between Team A and B.

Tiebreaker #2: best full-season record against the team that won the first half.
For purposes of Tiebreaker #1, here are each of the four contenders' records against each other:
Bend 4, Portland 2
Bend 0, Ridgefield 6
Bend 3, Cowlitz 3
Cowlitz 3, Portland 3
Cowlitz 3, Ridgefield 3
Portland 3, Ridgefield 3
All those teams have completed their season series against each other, so those records are locked in.
As for Tiebreaker #2—best record against the first-half winning Knights—Ridgefield went 0-6, Portland 1-5, and Cowlitz 1-2; meanwhile, Bend is 2-1 but finishes their season with three games in Corvallis, so if they win just once more they'll have this tiebreaker over Cowlitz (followed by Portland and Ridgefield).
So those are the makings of the sausage, and don't say nobody's ever warned you. Ready for the actual sausage? Here's how all this could play out for real:
Two-Team Ties
Bend-Cowlitz: TBD by Bend-Corvallis series*
Bend-Portland: Bend wins (head to head/H2H)
Bend-Ridgefield: Ridgefield (H2H)
* If Bend wins at least one of three games, they capture the berth by virtue of superior record vs. Corvallis.
Cowlitz-Portland: Cowlitz (record vs. Corvallis)
Cowlitz-Ridgefield: Cowlitz (record vs. Corvallis)
Portland-Ridgefield: Portland (record vs. Corvallis)
Three-Team Ties
Bend-Portland-Ridgefield: Ridgefield wins (9-3 H2H)
Bend-Cowlitz-Ridgefield: Ridgefield (9-3 H2H)
Cowlitz-Portland-Ridgefield: Cowlitz (record vs. Corvallis)
Four-Team Tie
Bend-Cowlitz-Portland-Ridgefield: Ridgefield (12-6 H2H)
Finally, adding to the drama? None of the four contenders play each other in this final week of the season, which means four of the week's five season-ending series have a direct and dramatic impact on the playoff race.
To follow all the excitement, please visit the West Coast League's scoreboard and (full-season) standings pages and, for video coverage, the various teams' websites.
About the West Coast League: The West Coast League is the West's premier summer collegiate baseball league. Encompassing Oregon, Washington, British Columbia, and now Alberta, the WCL showcases pro prospects from major collegiate conferences around the nation. Every summer, the league features unparalleled fan and player experiences, with North America's best baseball weather and a mix of classic ballparks and dramatic scenery. The 2019 MLB amateur draft began with former Corvallis Knight Adley Rutschman selected with the overall No. 1 pick by the Baltimore Orioles. Also in 2019, 317 WCL alumni were active in affiliated professional baseball, including 45 in the major leagues, while overall attendance in the West Coast League increased to nearly half a million fans.