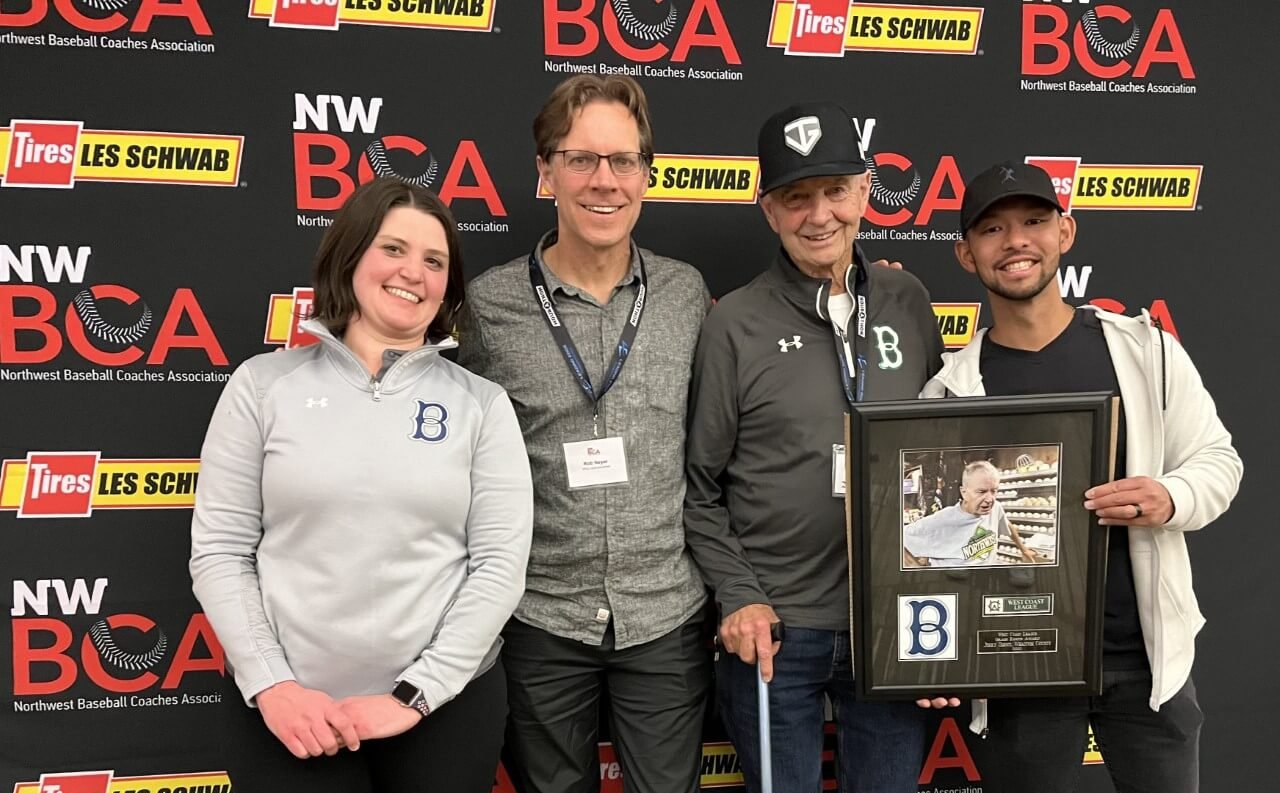 February 1, 2022
Saturday night in Portland, the West Coast League tabbed Jerry Smoot as the inaugural winner of the WCL's first Grass Roots Award.
"Our Grass Roots Award celebrates coaches from our communities," said WCL Commissioner Rob Neyer, "who have spent much of their lives working to promote amateur baseball and help young players achieve their full potential, both on the field and off.
In his introduction during the annual gathering of the Northwest Baseball Coaches Association, San Francisco Giants Bench Coach Kai Correa touted the value of local amateur coaches, after which Bellingham Bells General Manager Stephanie Morrell summoned Coach Smoot to the dais while reviewing a few highlights of Smoot's many contributions over the decades.
A native of Bellingham, Washington – home of the West Coast League's Bellingham Bells – Smoot served in the U.S. Marines during the 1960s, including a stint overseas, before coming home and beginning a long career with Puget Sound Energy, "climbing power poles."
When he wasn't up in the air, though, Smoot was usually working to create opportunities for young baseball players in Whatcom County.
"As a young coach," he recently said, "all I taught was winning, and all I wanted to do was win. But I learned it's all about teaching life skills. I enjoy helping to build self-esteem, and helping kids deal with success as well as failure."
"Coach Smoot sets a high bar," Neyer said, "for future winners of the Grass Roots Award. Fortunately, with 16 West Coast League teams, I don't expect any shortage of worthy nominees in the coming years. And I'm already looking forward to meeting next year's winner."
For more on Coach Smoot's contributions, see below his nomination from Bellingham Bells General Manager Stephanie Morrell.
My recommendation is Coach Jerry Smoot. Coach Smoot in his late seventies and has been coaching in Whatcom County at the youth, middle school & high school level for the better part of 50 years. He is now coaching kids and grandkids of kids he coached on some of his first teams! 
Over the years, contributions he has made have included: 
– Coaching various teams and mentoring coaches at various levels for 40+ years 
– Serving on the board of several local baseball organizations including the Bellingham American Legion 
– Loaning equipment to teams and organizations (including the Bells youth camps) and volunteering his time for numerous clinics and camps 
– In his younger days, contributing time & money to fields and infrastructure including installing the lights at Joe Martin Field and assisting many local high schools with lights and facilities 
– Recruiting host families for the Bells (like 30+ families over the years) and serving as a host family himself until his mid seventies 
– Writing an extensive book about the history of Mount Baker legion baseball in Whatcom County (self-published 2021) and distributing to former athletes 
About the West Coast League: The West Coast League is the West's premier summer collegiate baseball league. Encompassing Oregon, Washington, British Columbia, and now Alberta, the WCL showcases pro prospects from major collegiate conferences around the nation. Every summer, the league features unparalleled fan and player experiences, with North America's best baseball weather and a mix of classic and state-of-the-art ballparks, all backdropped by dramatic scenery. The 2019 MLB amateur draft began with former Corvallis Knight Adley Rutschman selected with the overall No. 1 pick by the Baltimore Orioles, and the 2021 draft included 42 WCL alumni, including 4 of the first 63 picks.