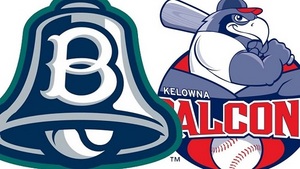 August 9, 2018
The Kelowna Falcons captured the league's final playoff spot last night by clubbing Wenatchee 11-3 and getting some help from the WCL South first-half champion Portland Pickles, as Portland knocked Victoria out of the post-season by beating the HarbourCats 10-3 at Wilson's Group Stadium at Royal Athletic Park.
Kelowna advances to the playoffs for the third time in the past four seasons.
The Falcons will host the Bellingham Bells in game one of the North Divisional Series on Friday, August 10 at Elks Stadium. First pitch is set for 6:35 pm. Games two and three (if necessary) will be at Joe Martin Field in Bellingham Saturday, August 11 and Sunday, August 12. Bellingham won both halves of the North Division.
The South second-half champion Corvallis Knights will host the Portland Pickles at OSU's Goss Stadium on Friday, August 10. First pitch is scheduled for 6:30 pm. Games two and three (if necessary) will be at Walker Stadium in Lents Park Saturday, August 11 and Sunday, August 12. Portland, the league's newest member, finished with the league's top overall record at 37-17.
Kelowna reliever and WCL all-star Cal Hehnke of Nebraska-Omaha closed out the Falcons playoff clinching win with a scoreless ninth and three strikeouts. Kelowna was led offensively by WCL all-star Dan Pruitt of Seminole State who went 2-for-2 with a homer and 3 RBIs in the Falcons 11-3 win over the Sox. The night prior, Pruitt blasted two homers in Kelowna's must-win 15-1 home victory over Wenatchee. Pruitt finished the regular season hitting .331 with 7 home runs and 26 RBIs.
ABOUT THE WEST COAST LEAGUE
The West Coast League (WCL) is the premier summer collegiate baseball league west of the Mississippi. The 14-year-old, 11-team, professionally operated wood-bat league located in the beautiful Pacific Northwest showcases pro prospects from major national conferences from June through the middle of August. The WCL features an unparalleled history of memorable fan and player experiences, and the best summer weather in North America. In 2018, 72 players with WCL experience were selected in Major League Baseball's June amateur draft. 271 WCL alums appeared or were active in affiliated professional baseball in 2017, including 31 in the major leagues, such as 2015 home-run leader Chris Davis (Baltimore); record-breaking rookie slugger Rhys Hoskins (Philadelphia); rising star pitchers James Paxton (Seattle) and Matt Boyd (Detroit); and 2018 AL All-Star outfielder Mitch Haniger (Seattle). Overall member attendance was 412,392 last summer, an increase of nearly nine percent year to year.