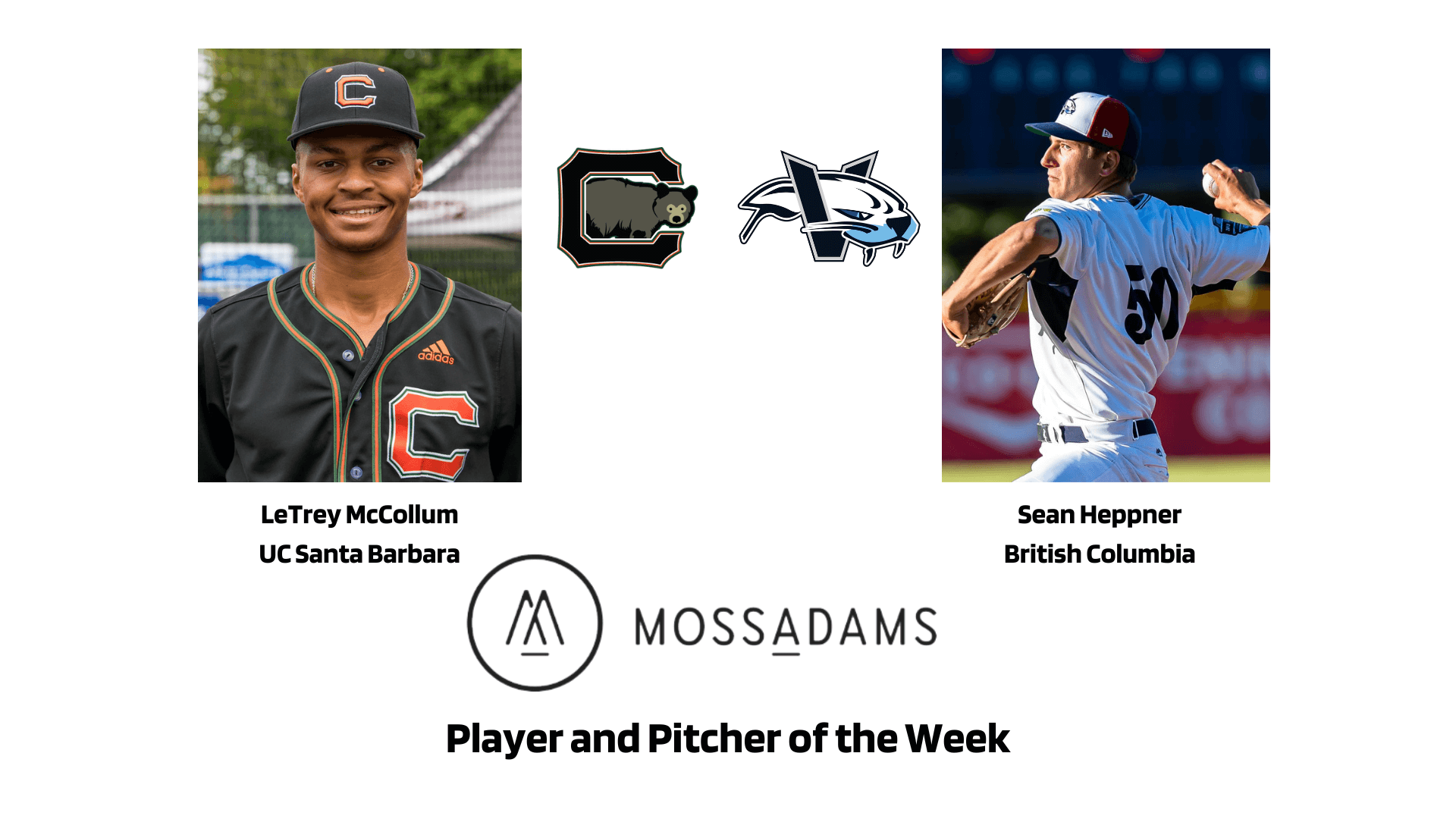 July 3, 2023
The West Coast League's Moss Adams Player of the Week and Pitcher of the Week, as announced by Commissioner Rob Neyer, are Cowlitz Black Bears outfielder LeTrey McCollum (UC Santa Barbara) and Victoria HarbourCats right-hander Sean Heppner (University of British Columbia).
Last week, McCollum went 11 for 19 in five games while scoring nine runs and stealing seven bases. Only 12 WCL players have stolen more bases in the entire season compared to McCollum's total over last week's five-game stretch. The rising junior has made an instant impact since joining Cowlitz, producing a .447 batting average in 10 games. In 52 starts for UC Santa Barbara this spring, he batted .300 with a team-high .336 average in Big West games.
Sunday against the Bellingham Bells, Victoria's Heppner was overpowering, earning the win to complete the HarbourCats' sweep. In just five innings, Heppner K'd a dozen Bells while allowing only two hits. In his five outings this summer, Heppner ranks second in the League with 35 strikeouts in only 20 innings. As a sophomore this spring, he was named Cascade Collegiate Conference Pitcher of the Year after going 7-5 with a 3.23 ERA for the UBC Thunderbirds.
About the West Coast League: The West Coast League is the West's premier summer collegiate baseball league. Encompassing Oregon, Washington, British Columbia, and now Alberta, the WCL showcases pro prospects from major collegiate conferences around the nation. Every summer, the League features unparalleled fan and player experiences, with North America's best baseball weather and a mix of classic and modern ballparks, all backdropped by the sport's most stunning scenery. The 2019 MLB amateur draft began with former Corvallis Knight Adley Rutschman selected with the overall No. 1 pick by the Baltimore Orioles, and the 2022 draft featured two West Coast League alumni, Brooks Lee and Gabriel Hughes, among the first 10 picks.