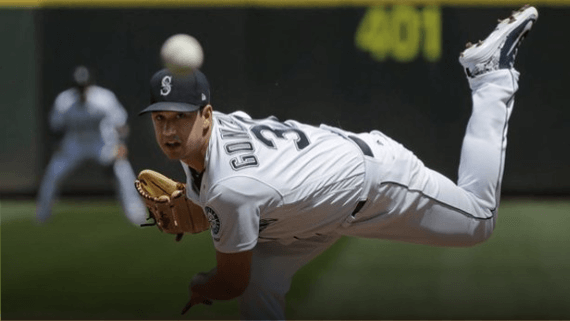 March 28, 2019
Twenty-five players who have played for West Coast League teams made Major League Baseball 2019 Opening Day rosters.
Marco Gonzales will start the home opener tonight for the Seattle Mariners against the Boston Red Sox. Gonzales earned the win in Seattle's first game of the season vs. the Oakland A's last week in Tokyo.
In 2018, 39 WCL team alums appeared in the big leagues. Below is a list of former WCL players that are beginning the season in the major leagues.
AMERICAN LEAGUE
Shane Bieber (Cowlitz), Cleveland Indians
Matt Boyd, (Corvallis), Detroit Tigers
Brandon Brennan (Bend), Seattle Mariners
Adam Cimber (Kitsap), Cleveland Indians
Chris Davis (Kelowna), Baltimore Orioles
*Matt Duffy (Corvallis), Tampa Bay Rays
*Jacoby Ellsbury (Bend), New York Yankees
Jace Fry (Corvallis), Chicago White Sox
Reed Garrett (Yakima Valley), Detroit Tigers
Sam Gaviglio (Corvallis), Toronto Blue Jays
Marco Gonzales (Wenatchee), Seattle Mariners
Mitch Haniger (Corvallis), Seattle Mariners
Blaine Hardy (Bend/Wenatchee), Detroit Tigers
Trevor Hildenberger (Bend), Minnesota Twins
Ramon Laureano (Medford), Oakland A's
James Paxton (Kelowna), New York Yankees
Ryan Tepera (Kelowna), Toronto Blue Jays
NATIONAL LEAGUE
Tyler Anderson (Corvallis), Colorado Rockies
Matt Andriese (Corvallis), Arizona Diamondbacks
Rhys Hoskins (Kitsap), Philadelphia Phillies
Connor Joe (Kelowna), San Francisco Giants
DJ Johnson (Corvallis), Colorado Rockies
Phil Maton (Kelowna), San Diego Padres
Nick Pivetta (Victoria), Philadelphia Phillies
Taylor Williams (Cowlitz), Milwaukee Brewers
*On disabled list.
About the West Coast League:
The West Coast League (WCL) is the premier summer collegiate baseball league west of the Mississippi. Situated in the beautiful Pacific Northwest, the 15-year-old, 12-team, professionally operated wood-bat league showcases pro prospects from major conferences across the nation. Every summer, the league features unparalleled fan and player experiences, with the best summer weather in North America. Seventy-two players with WCL experience were selected in the MLB 2018 June draft. Also in 2018, 294 WCL alums appeared or were active in affiliated professional baseball, including 39 in the major leagues, such as all-star outfielder Mitch Haniger (Seattle Mariners); ace hurler James Paxton (New York Yankees): slugger Rhys Hoskins (Philadelphia Phillies); and rising star pitchers Marco Gonzales (Seattle Mariners) and Matt Boyd (Detroit Tigers). Overall member attendance was 496,278 this past summer, a tremendous increase of 20% over the previous year