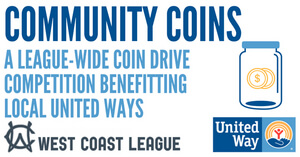 June 14, 2018
A competition between West Coast League teams is set to take place off the field as well as on the diamonds this summer, all to support a good cause. The Port Angeles Lefties and the United Way of Clallam County have partnered to start Community Coins, a coin drive designed to see which WCL team can raise the most money for their community.
Each participating team's local United Way will have a Community Coins jar at each home game. The goal is for fans of each team to donate their spare change to the jar all season long. The team that raises the most money for their community will be awarded the Community Impact trophy, and bragging rights, at the 2018 West Coast League All-Star game in Port Angeles, WA on Tuesday, July 17. All the money raised by each team will be donated to their local United Way.
Join in the fun and help support your community by bringing your spare change to the ballpark this summer. For more information contact Hayley Pearce of United Way of Clallam County at (360) 457-3011 or hayley@unitedwayclallam.org.
ABOUT THE WEST COAST LEAGUE
The West Coast League (WCL) is the premier summer collegiate baseball league west of the Mississippi. The 14-year-old, 11-team, professionally operated wood-bat league located in the beautiful Pacific Northwest showcases pro prospects from major conferences across the nation June through August. Out west, the league features an unparalleled history of memorable fan and player experiences and the best summer weather in North America. 83 players with WCL experience were selected in the MLB 2017 June draft. 271 WCL alums appeared or were active in affiliated professional baseball in 2017 including 31 in the major leagues, such as 2015 home-run leader Chris Davis (Baltimore); record-breaking rookie slugger Rhys Hoskins (Philadelphia); rising star pitchers James Paxton (Seattle) and Matt Boyd (Detroit); and outfielder Mitch Haniger (Seattle). Overall member attendance was 412,392 this past summer, an increase of 8.6% in total attendance.