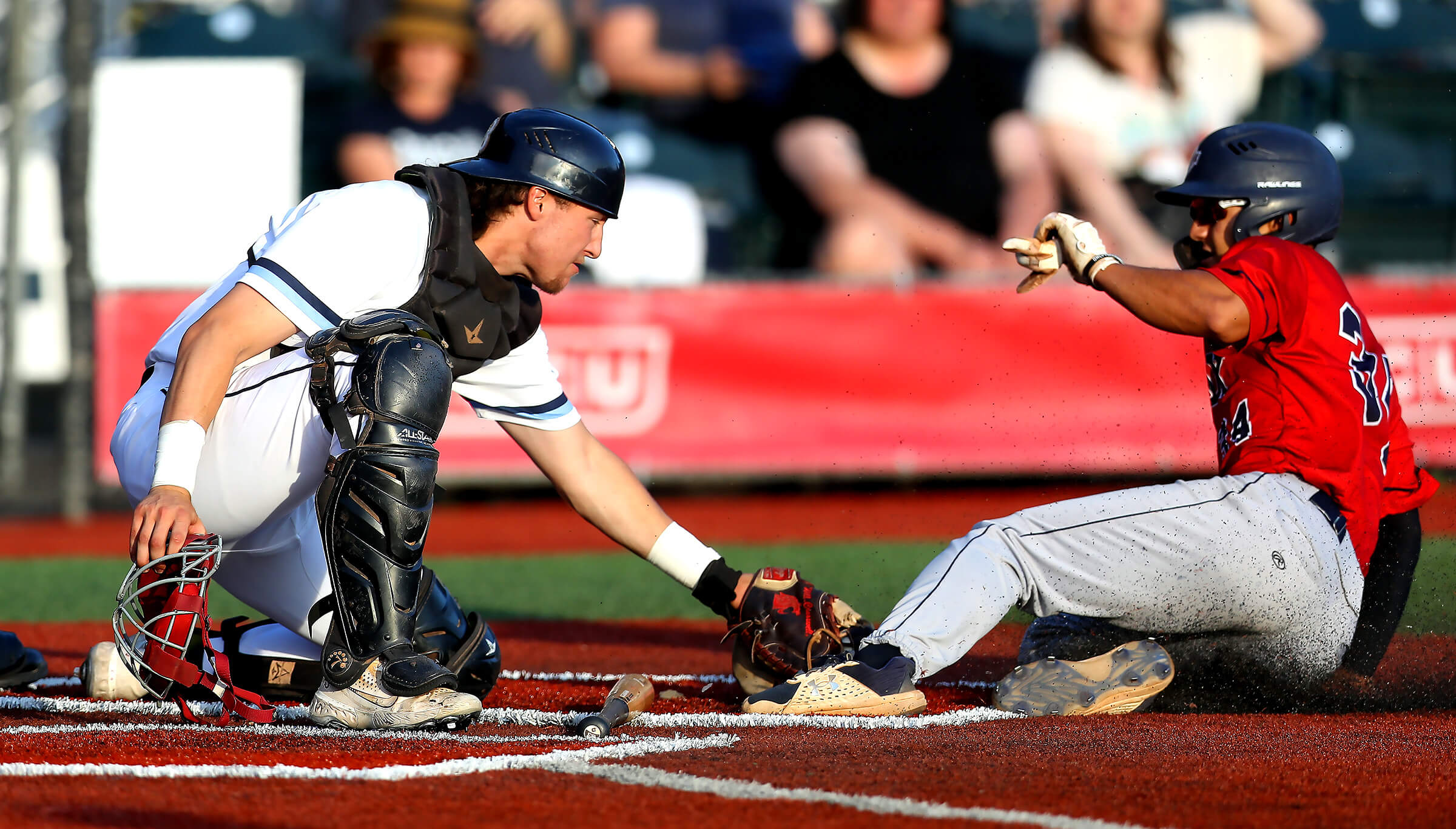 July 6, 2023
Wednesday night in Ridgefield, the host Raptors clinched the West Coast League's first 2023 playoff spot, beating the Portland Pickles 10-3 to eliminate the Pickles from contention. The Raptors had already finished their first half with a 17-9 record, with the Pickles passing the Raptors if they'd pulled off the road sweep this week.
But they didn't, thanks to Ridgefield's heavy hitting and Camden Oram's five strong innings on the mound.
With Ridgefield locked in, the South's other seven teams can focus on finishing the season strong, as three more postseason berths will go to the second-half winner and the teams with the best full-season records that do not finish atop the first- or second-half standings.
But there's still plenty of drama in the North, as the Bellingham Bells and Wenatchee AppleSox are currently deadlocked with 19-7 records.
(Last weekend, the Victoria HarbourCats finished their first half with a sterling 19-8 mark. But because they don't have any tiebreaker advantages over Wenatchee, the HarbourCats were eliminated from first-half contention Tuesday when the AppleSox reached 19 wins.)
Thursday night, Bellingham and Wenatchee finish their first halves: Bellingham vs. the Kamloops NorthPaws to conclude their three-game series, while Wenatchee finishes in Port Angeles.
Pursuant to the WCL's postseason procedures, if the Bells and AppleSox finish tied, the tiebreaker is run differential in all official West Coast League games … and there, the AppleSox enter Thursday night's game with a huge edge: +62 to +32.
Theoretically, of course, the Bells could make up that difference in one night. Practically, though, it's highly unlikely.
What's most likely is that the AppleSox will clinch the first-half title if they win or Bellingham loses.
If the Bells win and Wenatchee loses, then Bellingham takes the crown and earns the home-field in the first round of the WCL playoffs.
To follow the drama tonight and all the other West Coast League action on your favorite screen, fans can tune in via WCL Live, the league's user-friendly video streaming platform.
About the West Coast League: The West Coast League is the West's premier summer collegiate baseball league. Encompassing Oregon, Washington, British Columbia, and now Alberta, the WCL showcases pro prospects from major collegiate conferences around the nation. Every summer, the League features unparalleled fan and player experiences, with North America's best baseball weather and a mix of classic and modern ballparks, all backdropped by the sport's most stunning scenery. The 2019 MLB amateur draft began with former Corvallis Knight Adley Rutschman selected with the overall No. 1 pick by the Baltimore Orioles, and the 2022 draft featured two West Coast League alumni, Brooks Lee and Gabriel Hughes, among the first 10 picks.