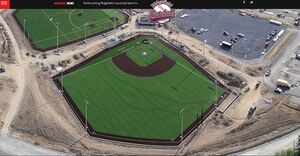 August 31, 2018
The West Coast League's newest member, the Ridgefield based WCL team, is pleased to announce that Chris Cota, head coach of College of the Canyons, has been hired as its first skipper in club history.
"We are excited to add Chris to our organization and follow his leadership on the field in our inaugural season," said Ridgefield General Manager Gus Farah, formerly of the NBA's Portland Trail Blazers.
"Chris comes highly recommended by many college coaches and colleagues around the country. He will guide our college-aged players with focus on development of their skills and accountability as they work towards their dreams of playing college baseball at a high level and preparing for the MLB draft."
Chris Cota will enter his 19th season at the helm of the Cougars baseball program in 2019.
"I am thrilled to be part of the inaugural season of WCL baseball at Ridgefield and SW Washington. The opportunity to deliver a great product on the field for our regional families will be extremely rewarding. I can't wait to get to the Pacific Northwest and play some baseball," said Cota.
Cota began his career at College of the Canyons as right fielder for the Cougars in 1985 and 1986. In 1986, he was drafted and signed by the Chicago White Sox. Cota went on to play four seasons in the White Sox and California Angels organizations.
He served as an assistant coach under longtime COC head coach Len Mohney for 10 years before he was named as Mohney's replacement following the 2000 season.
Over the past 18 seasons, Cota has amassed a 418-298-4 record and has captured the Western State Conference title five times, in 2003, 2004, 2008, 2009 and most recently 2017. In each of these seasons, Cota was named WSC Coach of the year.
Cota received a bachelor's degree in physical education from California State University, Northridge in 1994. He also received a master's degree in education, with an emphasis on physical education, from Azusa Pacific University in 1995.
ABOUT THE WEST COAST LEAGUE
The West Coast League (WCL) is the premier summer collegiate baseball league west of the Mississippi. The 14-year-old, 12-team, professionally operated wood-bat league located in the beautiful Pacific Northwest showcases pro prospects from major conferences across the nation June through August. Out west, the league features an unparalleled history of memorable fan and player experiences and the best summer weather in North America. 72 players with WCL experience were selected in the MLB 2018 June draft. 270 WCL alums appeared or were active in affiliated professional baseball in 2017 including 31 in the major leagues, such as 2015 home-run leader Chris Davis (Baltimore); slugger Rhys Hoskins (Philadelphia); rising star pitchers James Paxton (Seattle) and Matt Boyd (Detroit); and all-star outfielder Mitch Haniger (Seattle) and closer Bud Norris (St. Louis).