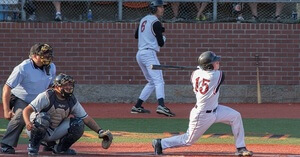 June 6, 2014
The role of 10-day contracts in West Coast League baseball
By Gary Belleville, Victoria HarbourCats Baseball Blog
harbourcatsbaseball.blogspot.ca
The NCAA Division I Baseball Tournament was played this past weekend with the top 64 teams in the country squaring off in 16 regional tournaments. The winner of each regional advances to a Super Regional next weekend, which also happens to be the beginning of the West Coast League season. That means that the players on those 16 teams who have committed to playing for a WCL club will end up reporting at least a few days late for summer baseball, and those who are lucky enough to go all the way to the College World Series final in late June may miss up to 40% of the entire season.
The uncertain end date for each Division I player's season presents a unique problem for West Coast League teams, because each organization needs to field a competitive squad on Opening Day regardless of how their partner schools perform in the playoffs. In addition to delays from Super Regionals, players may be delayed as they finish their school semester, recover from injuries, etc. The solution to this problem is to assemble a roster comprised of two types of players: those signed to a full-season contract and a smaller number of temporary players who are signed to a 10-day contract.
Although the short-term players do not necessarily stay on a team's roster for exactly 10 days, they are intended to fill any roster gaps caused by players who report after the WCL season begins. Academic or other personal reasons may also cause a player to report late to their summer club, so WCL teams may choose to sign five or more players to 10-day contracts. The importance of these players cannot be understated, since any team that hopes to make a serious run at a WCL championship can't afford to fall too far behind in the standings in the early part of the season.
So what types of players are typically signed to 10-day contracts? That really depends on the individual WCL club, but frequently these players come from smaller schools who compete at the NCAA Division II / III, junior college or NAIA levels. Occasionally a college freshman will initially fly under the radar of WCL teams, yet post a surprising rookie campaign that earns him a 10-day tryout in the summer. Quite often these players live in or just outside of a West Coast League city, making them a convenient call up to the local team. Whatever the reason, a 10-day contract gives a player a great opportunity to show off his skills and possibly earn a permanent roster spot on the team.
It's more common than one might expect to see 10-day contract players have significant success in the WCL and recent examples of this aren't difficult to uncover, here are a few:
Medford brought in Spencer Smith on a 10-day contract in 2013 and he ended up hitting a solid .320 in 41 games, helping to lead the Rogues into the playoffs in their inaugural season.
Ryan Richardson was signed by the Walla Walla Sweets in 2010 with the expectation that he'd help throw batting practice and fill in on the mound in a pinch; he went on to post the best ERA in the entire league (1.53) in 2011.
Jarel Lewis was a 10-day player for the Bellingham Bells in 2012 and he led the team in hits that season and made the WCL All-Star team.
Corvallis inked Dane Lund to a short-term deal in 2011 only to see him go on to play four consecutive years with the Knights and win team MVP in 2013.
Ty Russell was only expected to play a few games for the Victoria HarbourCats at the start of the 2013 season, but he remained on the roster for the duration of the summer and led the team with an impressive .485 on-base percentage.
West Coast League fans would be wise to find out which of the players on their local team have been signed to a 10-day contract and cheer a little harder for these underdogs when they take to the field. Should your favourite team be fortunate enough to advance to the WCL playoffs, remember those unsung heroes from the early part of the season who chipped in to help your team while some of the regulars were still competing in the NCAA Division I Baseball Tournament. Just like in the big leagues, it takes more than 25 ballplayers to win a championship.