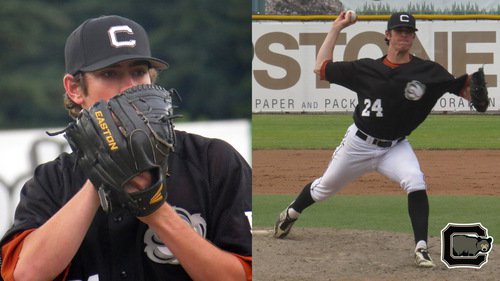 November 11, 2020
Wednesday, former Cowlitz Black Bears pitcher Shane Bieber was named the winner of the 2020 American League Cy Young Award after a dominating season for the Cleveland Indians. Bieber is the first WCL alumni to win a Cy Young Award.
"We couldn't be more thrilled for Shane Bieber, the Cowlitz Black Bears, and the entire West Coast League," said WCL Commissioner Rob Neyer, "And as we move into an exciting new era for our league, we'll only see more of our stars become MLB stars. Or like Shane Bieber, superstars."
After pitching for the Black Bears in 2014, Bieber completed his standout career at UC Santa Barbara, and was selected by the Indians in the fourth round of the 2016 MLB Draft. He made his MLB debut in 2018, posting an 11-5 record in 20 appearances during his rookie campaign. In 2019, he went 15-8 and was named MVP of the All-Star Game and ultimately finished fourth in A.L. Cy Young balloting.
This year, Bieber captured the stellar Pitcher's Triple Crown, leading the American League in wins, ERA, and strikeouts. Bieber is only the 12th Triple Crown winner in American League history, and the loop's seventh unanimous Cy Young winner; he's just the fifth American Leaguer to accomplish both feats, joining Roger Clemens, Pedro Martínez, Johan Santana, and Justin Verlander.
During his summer in Cowlitz in 2014, Bieber posted a 1.44 ERA in six starts, not allowing an earned run in four of those starts. He was selected to play in the WCL All-Star Game, and earned first-team All League honors.
Bieber is the second former WCL hurler to be honored in the last week by MLB, after Wenatchee AppleSox alumni Griffin Canning won an A.L. Gold Glove Award after his fine season with the Los Angeles Angels.
About the West Coast League: The West Coast League is the West's premier summer collegiate baseball league. Encompassing Oregon, Washington, British Columbia, and now Alberta, the WCL showcases pro prospects from major conferences around the nation. Every summer, the league features unparalleled fan and player experiences, with the best baseball weather in North America. Last year's MLB amateur draft began with former Corvallis Knight Adley Rutschman selected with the overall No. 1 pick by the Baltimore Orioles. Also in 2019, 317 WCL alums were active in affiliated professional baseball, including 45 in the major leagues, while overall attendance in the West Coast League increased to nearly half a million fans.