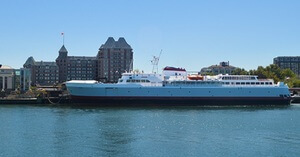 June 4, 2014
Keizer, Oregon, June 3, 2014 – With the start of the West Coast League's 10th season only days away, the League is excited to announce a partnership with Black Ball Ferry Line that will see the Coho ferry designated as the "Preferred Ferry of the West Coast League" for the 2014 season.
"We are a league that is dependent on reliable travel services, and the Coho Ferry is positioned ideally for most trips to Vancouver Island for our member teams," said West Coast League President Dennis Koho.
With the WCL's successful expansion to the Victoria market in 2013, ferry travel became a necessary part of team travel logistics. This relationship will assist WCL members in more efficiently scheduling safe voyage to the Island while helping teams best manage travel expenses.
Terms of the agreement, per league policy, will not be disclosed. West Coast League teams will look to use the Port Angeles-to-Victoria route as often as possible when traveling to Victoria to play the HarbourCats, and the HarbourCats will use the Coho Ferry on most trips this season.
The WCL, HarbourCats and Black Ball Ferry Lines will support each other with website link recognition on each others website and social media marketing.
"Black Ball Ferry Line is excited to become the preferred ferry partner of West Coast League baseball for travel to Vancouver Island," said Ryan Malane, Vice-President of marketing for Black Ball Ferry Line. "With the expanding presence of the West Coast League on the regional sports scene, we're pleased to be able to offer the most direct and cost-effective route between the U.S. and Canada both for teams and their fans. We look forward to working with the League to further promote their quality baseball product on both sides of the border."
"The Black Ball Ferry Line has a strong tourism brand for this region, and can also help create additional awareness for us, that there is a great brand of baseball in the West Coast League within easy travel for people throughout the Pacific Northwest and in British Columbia," said Koho. "We think this is an excellent league-wide partnership, and beyond that it is perfectly-timed with the unveiling of our fully overhauled league website, which has just recently launched."