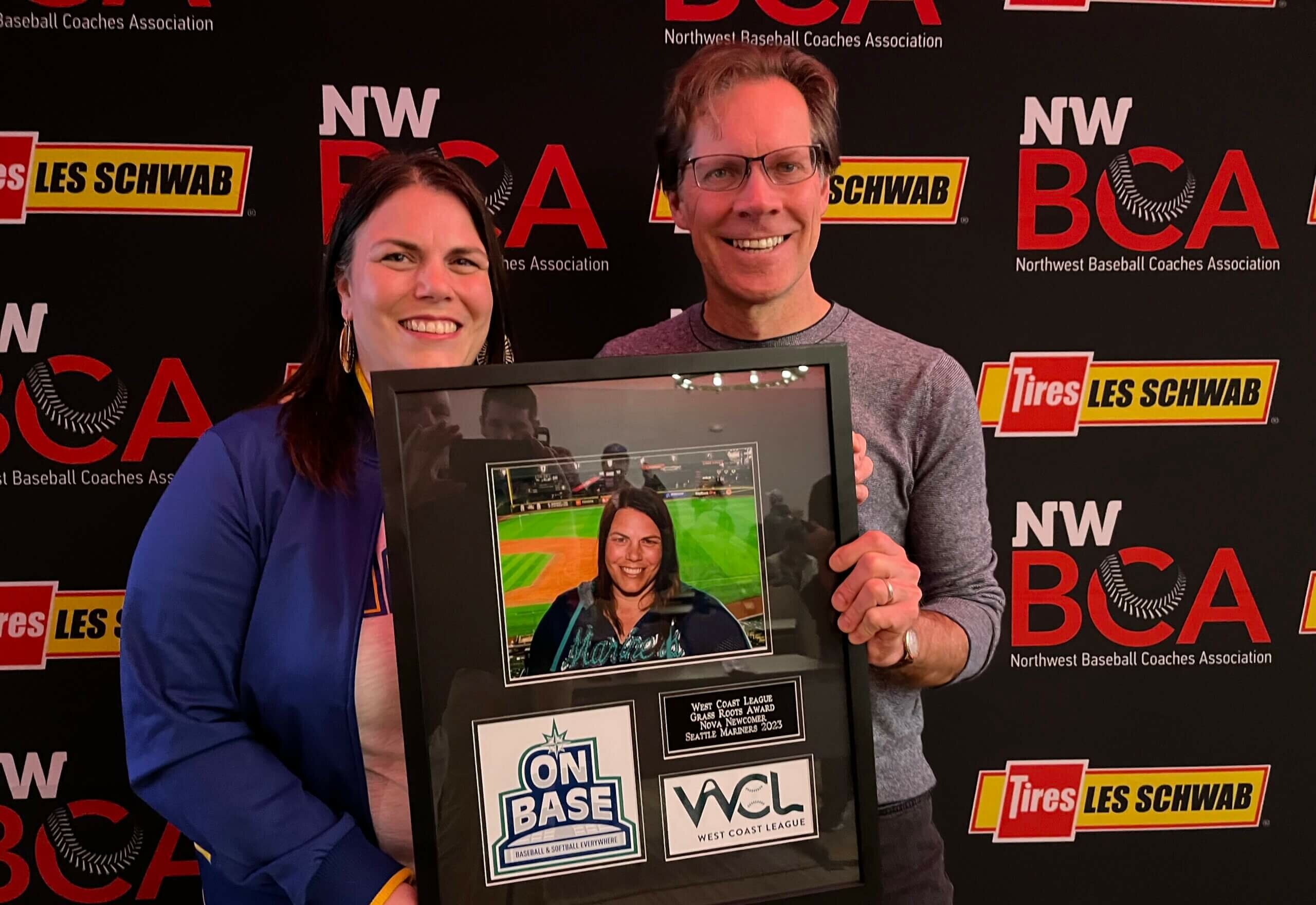 January 31, 2023
Last weekend in Portland, the West Coast League's board of directors and general managers gathered, both in person and via teleconference, for the League's annual winter meetings.
The event kicked off Friday night, when Commissioner Rob Neyer presented Nova Newcomer with the West Coast League's annual Grass Roots Award, just before Seattle Mariners pitching coach Pete Woodworth spoke to a large audience at the Northwest Baseball Coaches Association (NWBCA) convention.
Currently the Seattle Mariners' Director, Community Relations & Mariners Care Foundation, Newcomer previously served as executive director of Friends of Baseball, a Portland-based nonprofit organization that works with community groups to enhance children's lives through baseball's power to teach.
"There are dozens of excellent Grass Roots Award candidates throughout the West Coast League's footprint," said Commissioner Neyer, "which makes the selection of a single person one of my toughest jobs. But one of my favorite jobs is actually presenting the award, and Nova sets a high bar for future honorees."
Newcomer is now part of the tradition that began one year ago, when Whatcom County (Washington) coaching legend Jerry Smoot became the first winner of the Grass Roots Award.
The WCL's board of directors met jointly with front-office staff from all 16 member teams, and over the course of the weekend directors addressed many topics, perhaps most notably the future of the League's developing relationship with Major League Baseball; a far-ranging initiative to improve the League's video streaming package; and efforts to create a fan-friendlier pace of play in 2023.
The League also reflected upon its most successful season ever, which included four first-year teams; record-setting attendance; a new postseason format that generated tremendous excitement well into the season's final week; and a renewed partnership that will bring Driveline's revolutionary training tools to every team in the West Coast League.
"There's no doubt in my mind," said Commissioner Neyer, "that 2022 was our greatest season. There's also no doubt in my mind that 2023 will be even better."
About the West Coast League: The West Coast League is the West's premier summer collegiate baseball league. Encompassing Oregon, Washington, British Columbia, and now Alberta, the WCL showcases pro prospects from major collegiate conferences around the nation. Every summer, the league features unparalleled fan and player experiences, with North America's best baseball weather and a mix of classic and state-of-the-art ballparks, all backdropped by dramatic scenery. The 2019 MLB amateur draft began with former Corvallis Knight Adley Rutschman selected with the overall No. 1 pick by the Baltimore Orioles, and the recently completed 2022 draft featured two West Coast League alumni, Brooks Lee and Gabriel Hughes, among the first 10 picks.