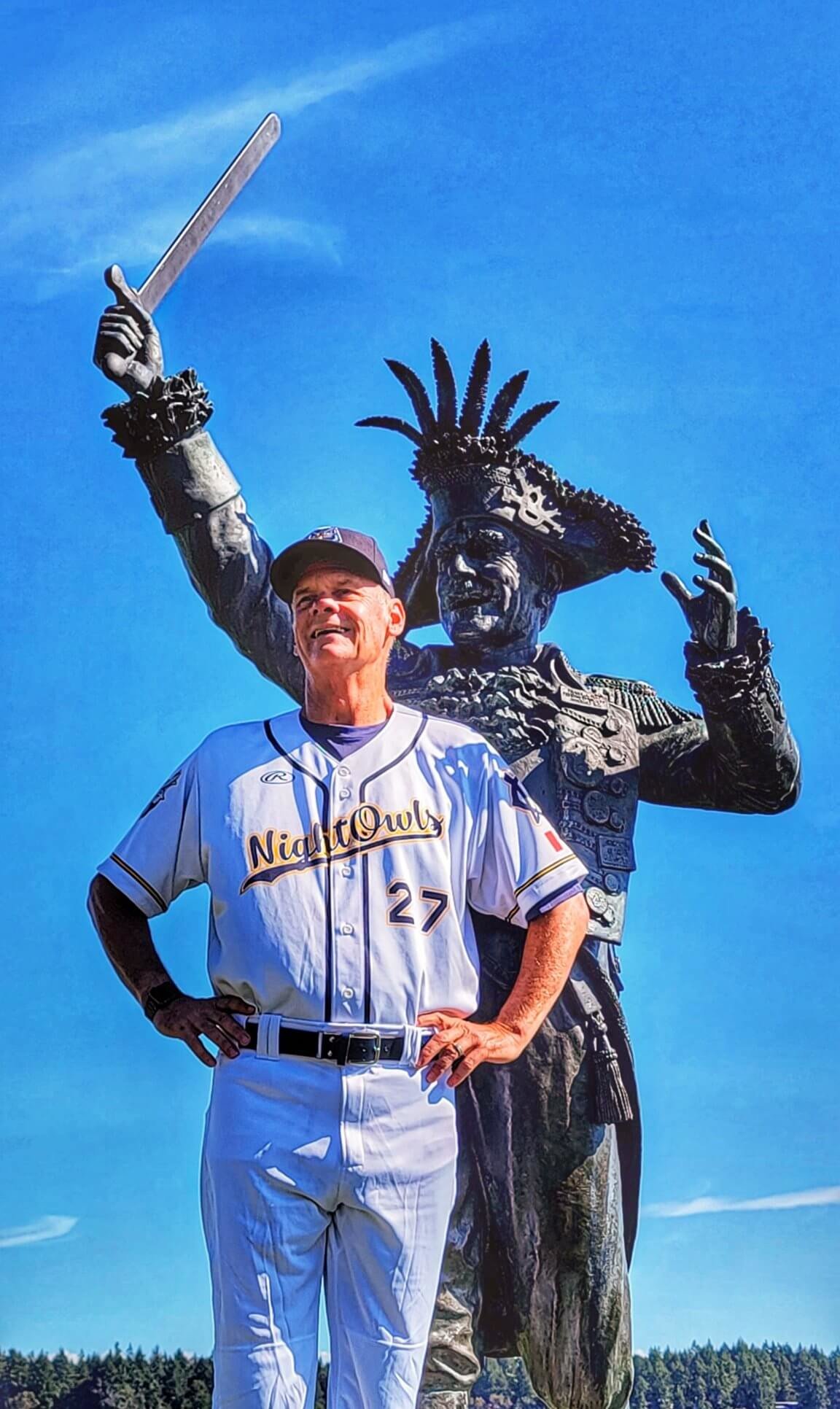 July 1, 2022
By Rob Neyer
How often do we reduce, in our minds, a baseball life to a line or two in Baseball-Reference.com or one of those old doorstop encyclopedias?
In 1983, Gorman Heimueller started 14 games for the Oakland Athletics, all in the second half of the season. He won three of those, and lost five. The next season, out of the rotation and mostly in the minors, Heimueller got into six games, the last of them a three-inning stint against the Red Sox in Fenway Park. Which did not end well.
What those lines don't tell you is how little chance Heimueller was given to play professional baseball, let alone reach the big leagues. What those lines don't tell you is how many incredible moments Heimueller experienced in those bits of two MLB seasons. And what those lines don't tell you is how many places Heimueller's been, how many lives he's touched, in the nearly 40 years since throwing that last pitch in Fenway.
Gorm Heimueller did tell me some of those things, though, when we recently sat down in a Portland brunch spot for coffee and toast.
"When I was a kid," he said, "one of my favorite books was Ball Four. I loved it. I'd always wanted to be a baseball player, but after I read Ball Four when I was 14 or 15, I wanted to be a baseball player that much more."
Before Jim Bouton, though, there was Sandy Koufax. Growing up in Southern California in the 1960s, Heimueller was a big Dodgers fan, and for him it was "Koufax, God; God, Koufax. I wasn't sure who was higher than who." Later, after his playing career, Heimueller met Koufax a few times and he still happily shares a photo taken of them together in 1989.
But all that came after Heimueller defied the odds.
"I was told a number of times I wasn't good enough," he says. "Scouts. Farm director. My college coach. I didn't pitch much my senior year in college. I asked my coach, "You think I can play pro ball?"
He'd played pro ball. "No, I don't think so."
"Which is one thing I've learned," Heimueller said. "I will never tell a kid that. Who am I to say that?"
He also didn't believe his coach.
"If you'd asked somebody about me as a pitcher back then, my reputation was I had a really good pickoff move. They probably wouldn't talk about how I pitched, because I probably wasn't very good.
"I knew what my ability was," Heimueller said. "I knew I didn't throw real hard. But I always seemed to win more than I lost. I loved to compete. And I was probably too stupid to think I couldn't do it."
So despite not being drafted as a junior or even a senior—and remember, this was back when the draft lasted for dozens of rounds—he just kept pitching. And after a series of twists and turns in his first summer after that senior year, Heimueller signed with the San Francisco Giants.
That was 1977. In 1980, pitching in Double-A for the Giants, he picked up a screwball, "and that's what got me to Triple-A; that's what got me to the big leagues."
In 1982, having been released by the Giants and signed by Oakland a year earlier, Heimueller got invited to spring training with the A's, then managed by the legendary Billy Martin.
"His first meeting in Scottsdale," Heimueller recalled, "he says, 'Guys, I just want you know, I have no rules. No rules. I've got principles. If you're out in a nice town, and you're in a bar and get thrown in jail, if you're hitting .320 we'll bail you out. If you're hitting .220 you're going to stay in there for a while.' Which I thought was awesome."
Heimueller spent most of that season in the Double-A Eastern League—his third stint there, actually—but pitched well enough to earn a rotation slot in '83 with the Triple-A Tacoma Tigers. Then came The Call.
"I was having a pretty good year in Triple-A," Heimueller said. "I was getting ready to pitch against Albuquerque and our manager, Bob Didier, comes in and says, 'Hey, you're not pitching tonight.'
"Why?"
"You're pitching tomorrow."
"Why?"
"You're pitching tomorrow in Baltimore."
Heimueller got the word from Didier at 6:30 and a few hours later was on a redeye flight from Seattle to Baltimore. It was the first time he'd ever flown first class. Didn't sleep a wink because he was so excited, and showed up at Baltimore's old Memorial Stadium.
First step: Get a uniform.
"The only numbers they had were 3's and 1's, and somebody already had 31. So I got 13. They didn't have enough letters to spell my name right. And I said, 'I've been waiting for this for eight years, you can give me 13, you can spell my name wrong. I don't care; just give me a uniform.' But I did pitch the rest of the road trip with just one L on my jersey."
Heimuller's first MLB hitter? Todd Cruz, who singled.
His first strikeout? Cal Ripken, in the middle of his MVP season, on a screwball.
Through seven innings, Heimueller held the Orioles—in the middle of what turned into a World Championship season—to just one run. Unfortunately, the Orioles' Allan Ramirez, another rookie, had held the A's scoreless. And in the eighth, Heimueller ran into some trouble. With one out, he walked Ripken. Next up: Eddie Murray, another future Hall of Famer.
"He looked so bad on two screwballs," Heimueller recalls. "Missed 'em by a mile. I threw him another one and just tipped it foul. Then [catcher] Mike Heath asked for a fastball inside and I'm like, Okay. I left it over the plate. On the broadcast, Jon Miller said, 'Back back back back, into Delaware!' I tell people it wasn't the longest home run I ever gave up, but it was the fastest one. He crushed it."
Murray's homer knocked Heimueller out of the game. Rickey Henderson did lead off the ninth with a homer of his own, but the game ended 3-1.
Just four days later, Heimueller started in Fenway Park and didn't fare as well. He kept his rotation slot, though, and in late August ran off a streak of three impressive starts. First he pitched a shutout against the Angels in Oakland. Then at Yankee Stadium he pitched into the seventh inning in a game the A's eventually won in 14. And in his last August start, Heimueller tossed another complete game and beat the Brewers.
His season ended with an abbreviated start against the Royals. Heimueller opened the 1984 season in Tacoma, then got called up in June for relief duties. His last MLB pitch? On July 4 in Fenway Park, he entered the game in the seventh inning; there was a man on and the A's already trailed 9-7.
He put out the fire. He pitched a scoreless eighth. The A's tied the game. He pitched a scoreless ninth. In the bottom of the 10th, Marty Barrett led off with a single. There was an error, a sacrifice bunt, and an intentional walk. And then were was Jim Rice.
"It was a 2-1 pitch. He hit a fly ball to right center. I know the game's over. I'm just thinking, stay in the park. You know that low fence in front of the bullpen in Fenway. Bob Stanley caught it in his hat, right behind that fence. Grand slam."
It was the last pitch Heimueller ever threw in the major leagues.
He spent the rest of that season and all of 1985 pitching in the minors, and then embarked on a coaching career that took him just about everywhere, including Australia. Most recently, he served for years as a coordinator with the San Diego Padres.
Now Gorm Heimueller brings all his knowledge and history to a rotating cast of young Nanaimo NightOwls pitchers. You could sit down for a hundred coffee-and-toasts with Gorm and receive just the tiniest percentage of his accumulated experience and wisdom. Here's just a flavor, though; just enough to make you wish you were a NightOwl this summer…
"When I was with the Phillies," he says, "I used to have Roy Halladay, Cliff Lee and Cole Hamels talk to the group as a whole. They'd all give their little talks, and then questions.
"Somebody asked Roy what books he reads. He was really into the Harvey Dorfman stuff. He started talking about the deep, Harvey Dorfman stuff. And all of a sudden Cliff Lee goes, 'I don't think I've read a whole book in my whole life.'
"Which is what I wanted. Because there's somebody in that room who can relate to Roy and Cliff Lee and Cole Hamels. These are all really good major league pitchers, but they're all different. There's not one set way to be successful."
Gorm Heimueller won't tell his pitchers there's just one way to succeed. And he won't tell them to give up on their professional dreams. Instead, he's still working every day to help them achieve those dreams.
About the West Coast League: The West Coast League is the West's premier summer collegiate baseball league. Encompassing Oregon, Washington, British Columbia, and now Alberta, the WCL showcases pro prospects from major collegiate conferences around the nation. Every summer, the league features unparalleled fan and player experiences, with North America's best baseball weather and a mix of classic and state-of-the-art ballparks, all backdropped by dramatic scenery. The 2019 MLB amateur draft began with former Corvallis Knight Adley Rutschman selected with the overall No. 1 pick by the Baltimore Orioles, and the 2021 draft included 42 WCL alumni, including 4 of the first 63 picks.