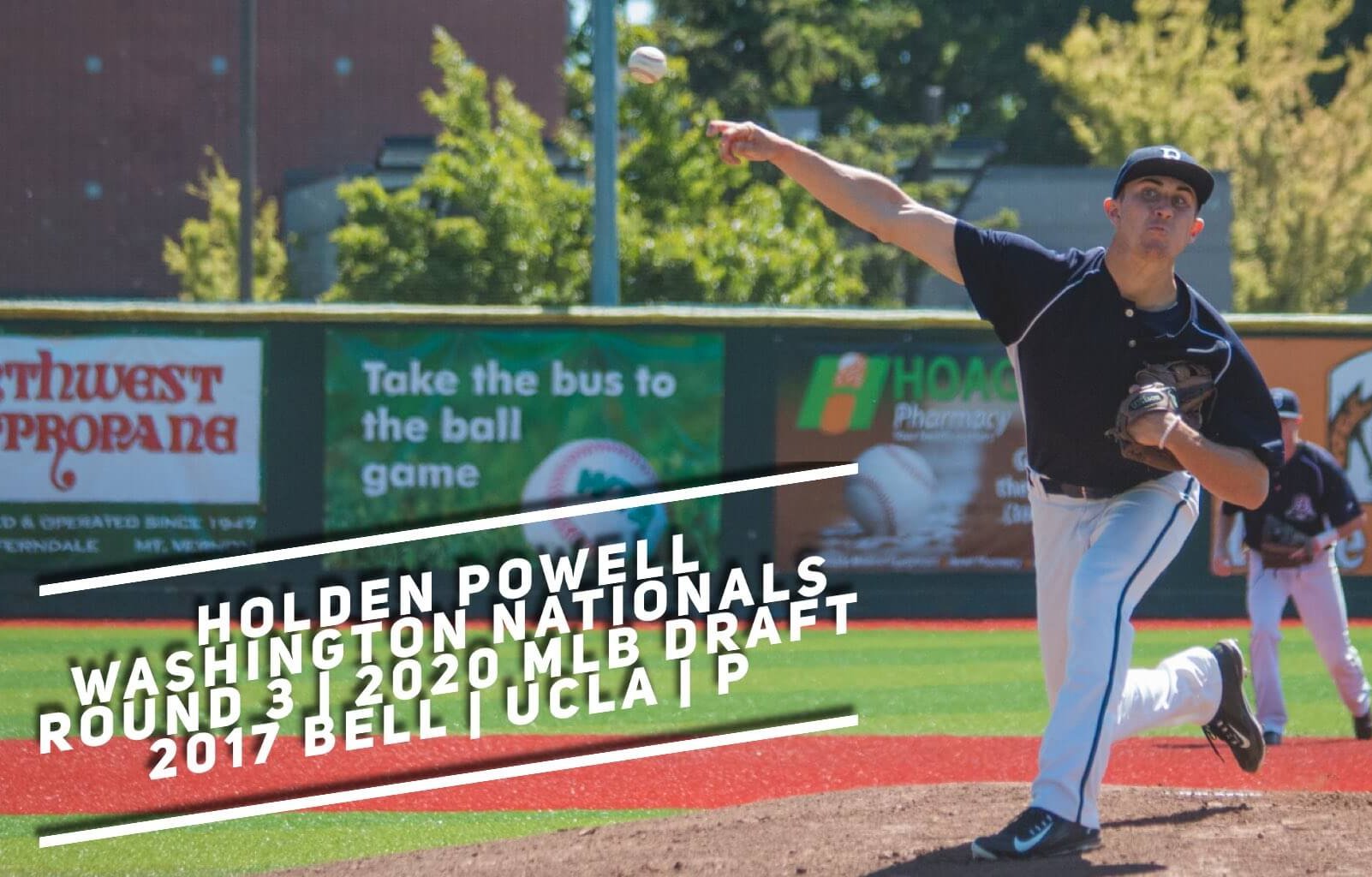 June 12, 2020
Five alums of West Coast League teams were taken in MLB's 2020 amateur draft, conducted June 10 and 11. With the Milwaukee Brewers' selection of Garrett Mitchell with the 20th overall pick, 2020 marks the fourth straight year with a WCL standout drafted in the first round.
Mitchell, a UCLA outfielder, played for the WCL's Walla Walla Sweets in 2017. In his first game with the Sweets, Mitchell made a big splash with a double, a triple, and a home run in Walla Walla's 7-0 win over the Gresham GreyWolves. A year ago, Mitchell became the 18th player in UCLA history to join Team USA. This spring, in UCLA's pandemic-abbreviated season, Mitchell posted a sterling .355/.425/.484 batting line and struck out just three times in 15 games.
Mitchell's UCLA teammate Holden Powell became the second WCL alum taken, as the Washington Nationals' third-rounder with the 94th overall pick. Powell opened the 2017 WCL season in Bellingham's starting rotation, starting his summer collegiate career with four straight wins and a 1.31 ERA. In 2019, Powell garnered 17 saves for UCLA and was named NCBWA Stopper of the Year as college baseball's top reliever, also garnering unanimous All-American honors. This spring with UCLA, he appeared in 8 games without allowing a run, and struck out 20 batters in just 9 innings.
Kade Mechals is no stranger to Pacific Northwest baseball fans. In addition to starring at McMinville (Oregon) High School, then pitching for Skagit Valley (Washington) College and Western Oregon University, Mechals pitched for the West Coast League's Kelowna Falcons in 2016 and '17, plus the Port Angeles Lefties last summer. The Chicago White Sox's fourth-round pick allowed a stingy .189 batting average in his two seasons at Grand Canyon College.
Like Powell, the University of Hawaii's Jeremy Wu-Yelland has found college stardom as a relief pitcher. A left-hander, Wu-Yelland pitched for the WCL's Wenatchee AppleSox in 2018, and struck out 29 batters in 19 innings, with a brilliant 1.44 ERA. This spring with Hawaii, the Spokane native gave up just one earned run in 13 innings, and the Boston Red Sox were impressed enough by his mid-90s fastball and solid secondary pitches to make him their fourth-round pick in this year's draft.
The run on former WCL hurlers continued in the fifth round, when the Mariners selected Taylor Dollard out of Cal Poly San Luis Obispo. Dollard earned All-WCL First Team honors as a member of Yakima Valley's pitching staff in 2017, going 6-0 with a 1.92 ERA for the Pippins. This spring with Cal Poly, Dollard shifted from the bullpen to the Mustangs' rotation, racking up 36 strikeouts in 27 innings against top-flight competition.
WCLers drafted:
Round / Player / School / WCL Club(s) / MLB Org
– 1st round, Garrett Mitchell, UCLA, Walla Walla, Milwaukee Brewers
– 3rd round, Holden Powell, UCLA, Bellingham, Washington Nationals
– 4th round, Kade Mechals, Grand Canyon, Kelowna/Port Angeles, Chicago White Sox
– 4th round, Jeremy Wu-Yelland, Hawaii, Wenatchee, Boston Red Sox
– 5th round, Taylor Dollard, Cal Poly SLO, Yakima Valley, Seattle Mariners
With the draft being reduced from 40 rounds to only 5 in 2020,  a great many additional former WCLers also signed their first professional contracts as non-drafted free agents. Here's the updated list of WCL NDFA signees:
Player / School / WCL Club(s) / MLB Org
Bradlee Beesley, Cal Poly SLO, Yakima Valley, Chicago Cubs
Ben Leeper, Oklahoma State, Bellingham, Chicago Cubs
Alex McGarry, Oregon State, Kelowna, Cincinnati Reds
Leo Nierenberg, Washington, Portland, Cincinnati Reds
Cade Smith, Hawaii, Victoria, Cleveland Indians
A.J. Block, Washington State, Victoria, Kansas City Royals
Elijah Greene, Cal Poly SLO, Yakima Valley, Los Angeles Angels
Connor Pellerin, Tulane, Portland, New York Yankees
Jake Suddleson, Harvard, Walla Walla, Oakland A's
Adam Kerner, San Diego, Walla Walla, St. Louis Cardinals
Mac Lardner, Gonzaga, Wenatchee, St. Louis Cardinals
Carter Loewen, Hawaii, Port Angeles/Victoria, San Diego Padres
Haydn King, UNLV, Walla Walla, San Francisco Giants
Matt Scheffler, Auburn, Kelowna, Seattle Mariners
Gio Diaz, Saint Mary's, Portland, Washington Nationals
Click below to see the previous year-by-year list of WCL alums taken in the MLB Draft.
About the West Coast League: The West Coast League is the West's premier summer collegiate baseball league. Covering Oregon, Washington, and British Columbia, the WCL showcases pro prospects from major conferences around the nation. Every summer, the league features unparalleled fan and player experiences, with the best summer weather in North America. Last year's MLB amateur draft began with former Corvallis Knight Adley Rutschman selected with the overall No. 1 pick by the Baltimore Orioles. Also in 2019, 317 WCL alums appeared or were active in affiliated professional baseball, including 45 in the major leagues, including 2019 MLB All-Star Game MVP Shane Bieber; outfielder Mitch Haniger, hurler James Paxton; slugger Rhys Hoskins; and rising star pitchers Marco Gonzales and Matt Boyd. In 2019, overall member attendance increased to nearly half a million.